Is one picture is worth a thousand words?  – Well…?  Maybe.
Is one picture is worth a memory? – Hmmm…?  Definitely.
Given Major Cedarbaum's efforts on behalf of the Jewish servicemen on Guam, it is more than fitting to present an image of the Major, himself.  The picture below, from his Jewish Welfare Board Chaplaincy Record (available at Ancestry.com) is a fitting denouement to the prior posts covering Pesach on Guam in 1945.* 
Intriguingly, due to the quality of the photo, which clearly shows two newspapers in the Rabbi's library, the image can be approximately dated.
At the left is The Jewish Floridian, of July 13, 1945.  (This newspaper is available in digital format at the Florida Digital Newspaper Library of the University of Florida George A. Smathers Library, via the Florida Jewish Newspaper Project.)
At the right is The Jewish Post, of August 3, 1945.  (The Post is available in digital format at the website for the – appropriately enough, Jewish Post – of the Indiana Historic Newspaper Program.)
Digital images of the first page of each newspaper are presented below.
Given that Major Cedarbaum was stationed on Guam between March and October of 1945, this suggests that the photo was taken in mid to late August of that year.
Major David Isadore Cedarbaum, Rabbi, ASN 0-529289
The Jewish Floridian, July 13, 1945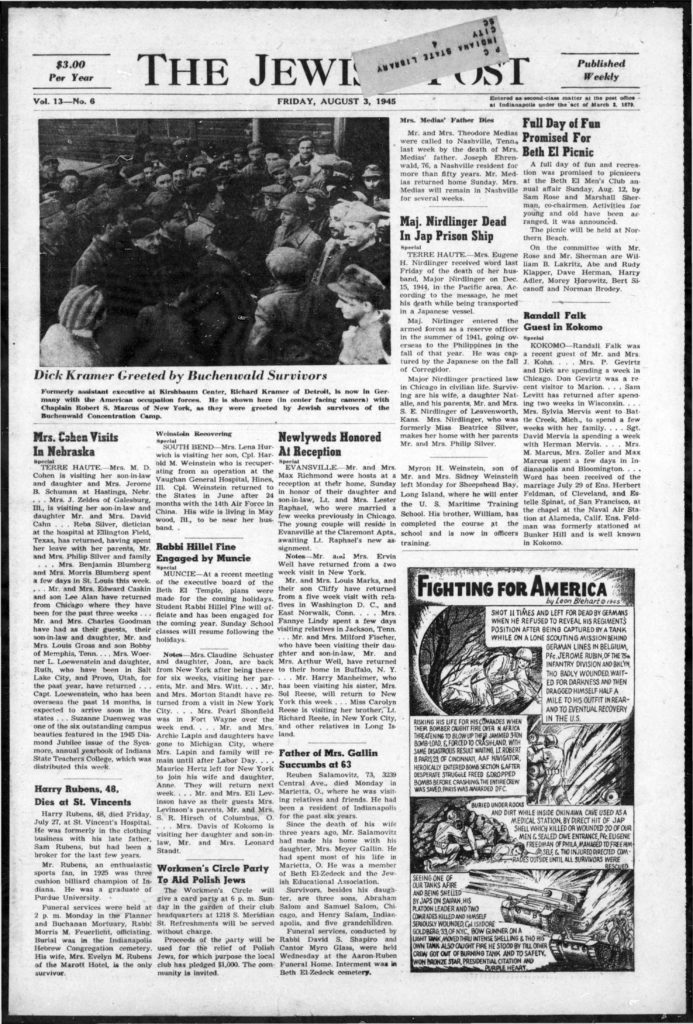 The Jewish Post, August 3, 1945
____________________
And, a possible segue for a future blog post… 
…of particular note in The Post is the item "Fighting For America", by artist Leon Blehart.  Fighting for America was issued by the Jewish Welfare Board and depicted – through cartoon vignettes – actions (sometimes involving wounds, or worse) by Jewish servicemen which resulted in military awards.  The series appeared from (at least?) – May through October of 1945.  The sketches in each release presented actions by four to five soldiers, from all branches of the American military. 
This "Fighting for America" item in The Jewish Post of August 3, 1945, appeared in The Jewish Exponent (Philadelphia) on the same day, and is shown below: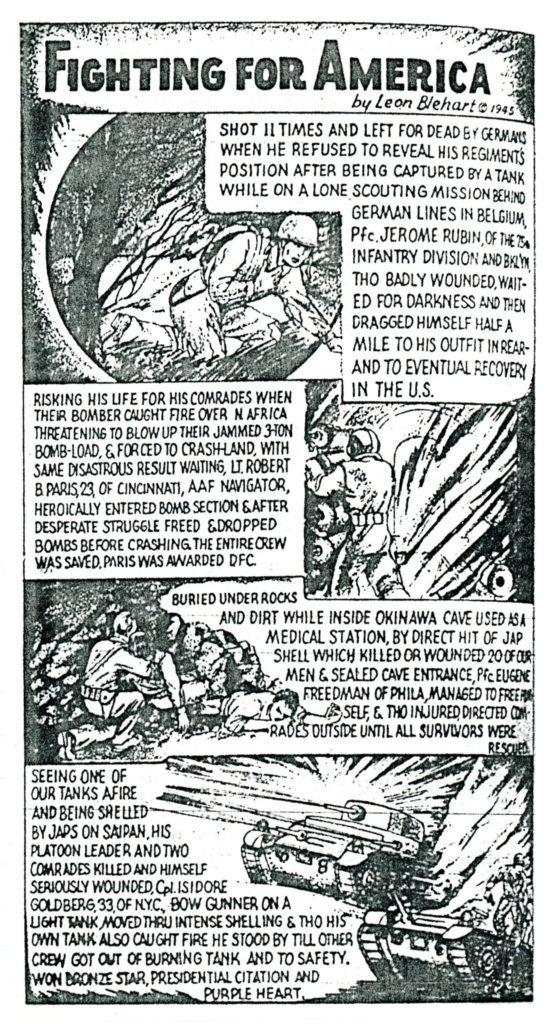 The actions depicted in the first two, and fourth vignettes, pertain to the following servicemen:

PFC Jerome Rubin, 75th Infantry Division; Incident occurred January 18, 1945; Mother (?), Marion Rubin, of 5502 14th Ave., Brooklyn, N.Y.; In Casualty List published in New York Times on 3/17/45; Story reported in Chicago Jewish Chronicle 8/10/45.

1 Lt. Robert Burton Paris, 342nd Bomb Squadron, 97th Bomb Group, 12th Air Force; From Memphis.
"Cpl. Isidore Goldberg" is probably Pvt. Isidore Goldberg; Father Ben Goldberg, of 1311 Grant Ave., New York, N.Y.; In Casualty List published in New York Times on 9/10/44.
– Michael G. Moskow