A member of the 77th Infantry Division, PFC Samuel J. Brandstein was killed at Okinawa on May 13, 1945.  His name appeared in one of the last WW II Casualty Lists to have been appeared in the Times (on April 21, 1946), while his obituary – one of several published in the Times that year – was published on March 9. 
Born in 1912, he was married to Flora L. Brandstein, and the couple lived at 2675 Morris Ave., in the Bronx. 
PFC Brandstein's body was never found.  His name is commemorated on the Tablets of the Missing at the Honolulu Memorial, in Honolulu, Hawaii.  He received the Bronze Star and Purple Heart.  Like many American Jewish servicemen, his name is not listed in the book American Jews in World War Two.
__________
Brooklyn Soldier Killed On Okinawa May 13, 1945
Pfc. Samuel J. Brandstein, of Company F, 306th Infantry, Seventy-Seventh Division, son of Mr. and Mrs. Max Brandstein of 1835 Seventy-seventh Street, Brooklyn, who was previously reported missing, was killed in action on Okinawa May 13, 1945, according to word received here.  He was 33 years old.
He had also fought on Guam, Leyte and in the Philippines.  Born in Brooklyn, he attended New Utrecht High School and Long Island University.  He left the employ of the Western Union Company to enter the service in March, 1942.  He went overseas in April, 1943.  Besides his parents, he leaves a widow, Mrs. Flora Brandstein, and a brother, Dr. Edward Brandstein.
__________
Some other Jewish military casualties on Sunday, May 13, 1945 include…
Killed in Action
– .ת.נ.צ.ב.ה. –
Gellar, James M., PFC, 36681494, Bronze Star Medal, Purple Heart
United States Army, 99th Infantry Division, 381st Infantry Regiment, F Company
Mrs. Mary Miller (aunt), 111 Rebecca Place, Peoria, Il.
Born 5/14/25
Honolulu Memorial, Honolulu, Hawaii – Plot M-121; Buried 3/9/49
American Jews in World War Two – 100

Samuel, Gerhard, PFC, 35904219
United States Army, 77th Infantry Division, 305th Infantry Regiment
Mr. and Mrs. Gustav (8/2/87-1954) and Gertrud (Bruck) Samuel (parents), 3750 Carrollton Ave., Indianapolis, In.; Arnold and Susie Samuel (brother and sister); Fred A. Samuel (cousin)
Born in Germany, at Rodalben in der Pfalz; 1/9/26
Mount Olive Cemetery, Solon, Ohio
Aufbau 7/6/45
Over The Front – Summer, 2000
American Jews in World War Two – 124
Killed (Non-Battle)
Landau, Mary M., PFC, A-207742
Mr. Louis Landau (father), Miss Renee Landau (sister), 559 Glenmore Ave., Brooklyn, N.Y.
Born 12/13/06
Jefferson Barracks National Cemetery, St. Louis, Mo. – Section 70, Grave 16187-89; Buried 6/29/59
News Item 6/10/45
American Jews in World War Two – 370

Naimer, Belle G., Sgt., A-116702
Mr. David Naimer (father), 136 East 208th St., Bronx, N.Y.; Gus, Harry, and Jack (brothers)
Born 10/31/11
Jefferson Barracks National Cemetery, St. Louis, Mo. – Section 70, Grave 16187-89; Buried 6/29/59
News Item 6/10/45
American Jews in World War Two – Not listed
Mary Landau and Belle Naimer were two among the twenty-three crew and passengers who were killed in the loss of a 317th Troop Carrier Group C-47 (41-23952; "Gremlin Special / Guinea Gopher") during a sight-seeing flight over the Balim Valley of Central New Guinea.  Caught in a down-draft, the aircraft, piloted by Colonel Peter Prossen, crashed, leaving only five survivors.  Of the five, PFC Eleanor Hanna and S/Sgt Laura Besley died of their wounds the next day.  The three eventual survivors, T/Sgt. Kenneth Decker, Cpl. Margaret J. Hastings, 1 Lt. John S. McColum were rescued 47 days late through extraordinary efforts by the Army Air Force and Filipino paratroopers, who evacuated the survivors by glider.  The loss of the plane is covered by MACR 14697.

This compelling story received national news attention in June of 1945.  This was particularly so in New York State newspapers (Albany Times-Union, Binghamton Press, Brooklyn Eagle, New York Sun, and New York Post) probably because survivor Margaret Hastings was from Oswego.  Especially detailed was the story "Mystery Valley of Shangri-La Isolates Plane Crash Survivors", filed by Associated Press reporter Dean Schedler, which was published in the Sun on June 8.  This two-page article provides a full list of crew and passengers, along with the towns and cities where their next-of-kin resided.
Both the Albany Times-Union and New York Sun specifically mentioned Belle Naimer, the Times-Union reporting (in an A.P. story):
MET SAME FATE AS HER FIANCE
NEW YORK, June 8 (AP) – WAC Sgt. Belle G. Naimer of the Bronx, one of 20 persons killed in on May 13 when an Army plane crashed in New Guinea's hidden "Shangri-La" valley, met the same fate as her fiance, her father, David Naimer, said today.
The attractive, 32-year-old woman had been engaged to an Army Air Force Lieutenant who was killed in a plane crash in Europe while en route to the front, he said.
The father, almost totally blind, said he did not know the lieutenant's name.
He said he last received a letter from his daughter May 9, from New Guinea.
Both the Sun and the New York Post reported that a funeral service was later conducted by aircraft the crash site by Catholic and Protestant Chaplains, with twenty-one grave markers (one of which was a Magen David) being dropped to the crash site.  In that regard, it is interesting – but not unusual – that while Mary Landau's name would eventually be listed in American Jews in World War Two, Bell Naimer's name did not appear in that book. 
In 1959, the remains of eighteen casualties from the crash were re-interred in a collective grave at Section 70, Site 16187-89, at Jefferson Barracks National Cemetery on June 29, 1959.  The image below, by FindAGrave contributor Carol Beck, shows this group's collective grave marker.  (Three other casualties, including Sgt. Besley and PFC Hanna, are buried in individual graves.)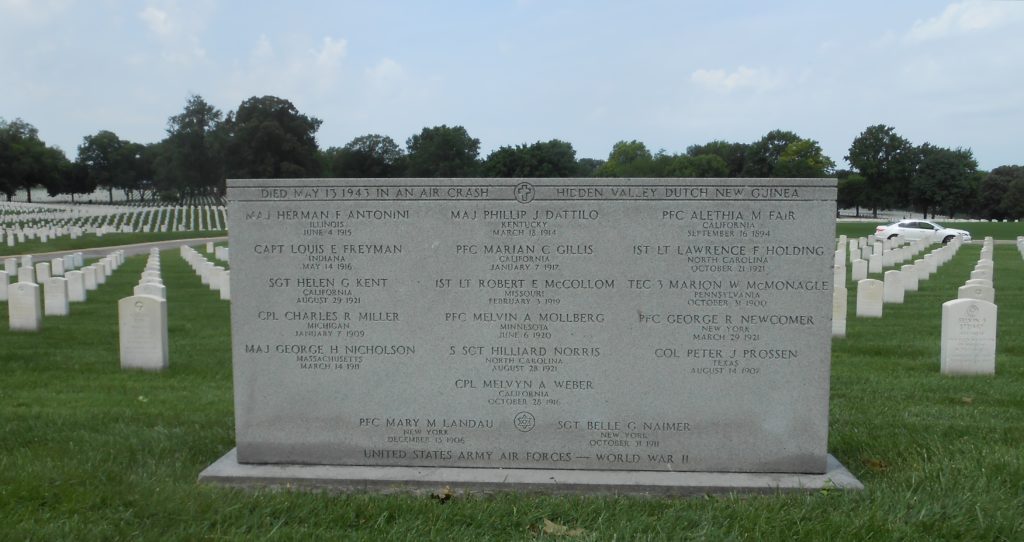 The following article about Belle Naimer, provided by FindAGrave contributor Astrid, can be found at Sgt. Naimer's FindAGrave biographical profile.  This biography notably differs from the item published in the Albany Times-Union in reporting that her fiance was killed in October or November of 1944, during a crash at or near the Mississippi River. 
Unfortunately, his name is unknown.

  ____________________
Writer Mitchell Zuckoff, author of 13 Hours in Benghazi and Frozen in Time, has fully chronicled the story of the Gremlin Special / Guinea Gopher in his book, Lost in Shangri-La, which is directly available through his website. 
References
Dublin, Louis I., and Kohs, Samuel C., American Jews in World War II – The Story of 550,000 Fighters for Freedom, The Dial Press, New York, N.Y., 1947.
C-47A 41-23952 (PacificWrecks)
Lost in Shangri-La, by Mitchell Zuckoff
PFC Mary M. Landau (FindAGrave.com)
S/Sgt. Belle G. Naimer (FindAGrave.com)