The Erinpura's Crew
Commanded by Captain R.V. Cotter, sixty members of the Erinpura's crew were lost in the sinking:  Fifty-five members of the Indian Merchant Navy, and, five members of the Merchant Navy.
The fifty-five Indian Merchant Navy personnel comprised such ratings as Baker, Boy, Butler, Cook, Donkeyman (an engine room rating who attended to the Donkey boiler), Fireman, General Servant, Oiler, Pantryman, Scullion (lowest job level in Merchant Navy), Seaman, Serang (skipper of a small boat), Topass (sanitary hygeine), and Trimmer (stoker).
Genealogical information is present for twenty-one of the fifty-five men, while ages are given for fifty-four.
Of the twenty-one, sixteen were married, all residing in Goa, a state along the southwestern coast of India.  Ten of the twenty-one were from South Goa, one of the two districts of Goa, the other being (as shown in the map below) North Goa.
Southern India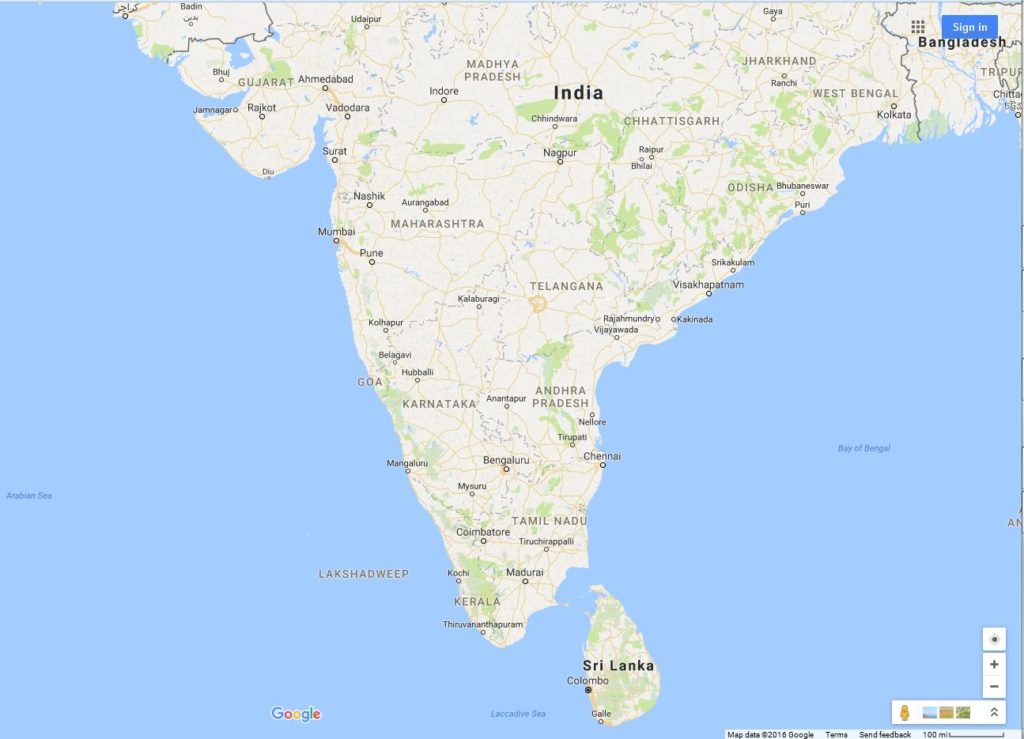 Goa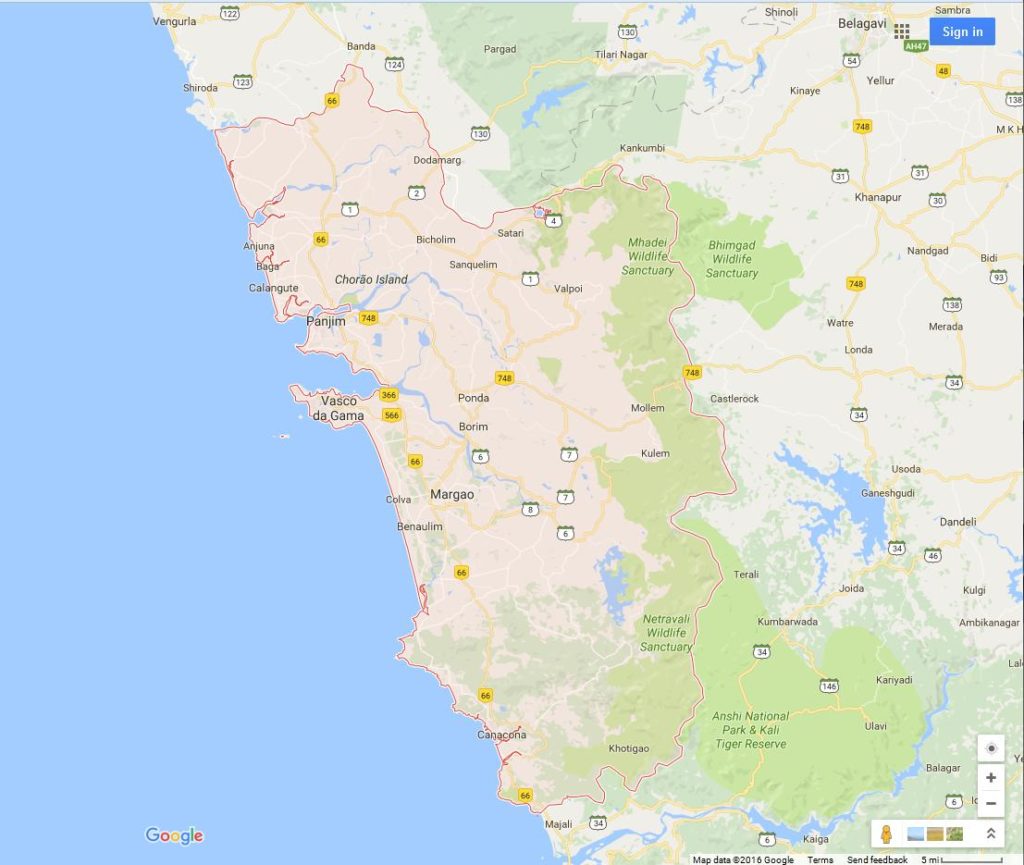 The Districts of Goa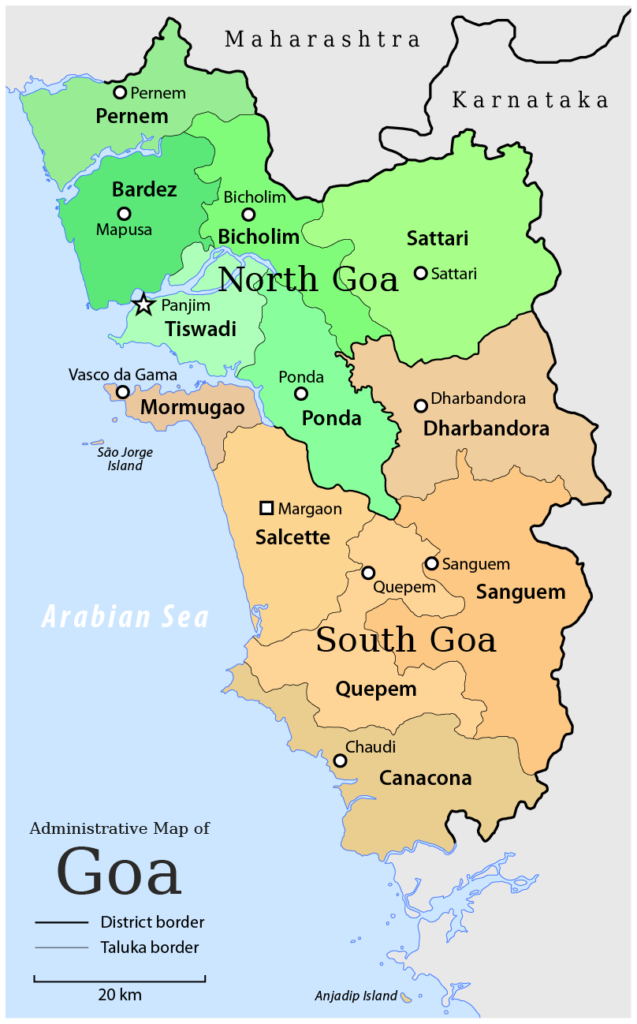 The twenty-one are listed as having been from:
Agramoda (Agarwada?), Goa (North Goa) – 1 man
Assolna, Goa // Assolna / Assoulua, South Goa – 3 men
Baga, South Goa – 1 man
Carosetta / Carsetty, South Goa – 2 men
Cavelsin (Cavelossim?), Carmone, Goa (South Goa) – 1 man
Chinchin, South Goa – 1 man
Dharmpur, South Goa – 1 man
Jeewado, South Goa – 1 man
Karsetti, South Goa – 1 man
Kolsewada (Kolsewadi?), Goa – 1 man
Mapuca, Goa (North Goa) – 1 man
Navelim, South Goa – 1 man
Nobai, Saipe (Saipem?), Goa (North Goa) – 1 man
Quepen, Laldamwadi, Goa / Quepen, Servia, Goa (Quepem, South Goa) – 2 men
Sukalda, South Goa – 1 man
Wado, South Goa – 1 man
At age sixty-three, the oldest crewman of the fifty-five was Francis F. D'Souza (General Servant), while the youngest was Main Mazhar (Boy), who was nineteen.  The average age of the twenty-one was thirty-nine, probably reflective of career service in the Indian Merchant Navy.
All these men are commemorated at the Bombay / Chittagong 1939-1945 War Memorial.  The Bombay 1939-1945 Memorial Roll of Honour is, "held at the Indian Sailor's Home, Bombay," and lists the names of 6,467 WW II casualties.  This total comprises, "over 400 sailors of the former Indian Navy and over 6,000 sailors of the former Indian Merchant Navy who were lost at sea during the war years."
The Merchant Navy casualties comprised the ship's First and Third Radio Officers (Ernest W. Erbach – age forty-nine, and Brian Rostron Marsden – age twenty-one), two Junior Engineering Officers (Charles McGill and Ernest Richard Smith), and Carpenter Tham Yout.  These five men are commemorated at the Tower Hill Memorial (Panel 48) in London.  Akin to the members of the Indian Merchant Navy, genealogical information is almost completely absent for them.  However, the father of First Radio Officer Ernest William Erbach is listed as Philip Cort.
Ten Other Casualties – Circumstances Unknown
Searching the CWGC database for deaths on May 1, 1943, in the Mediterranean and European Theaters yields records for nine other men.  Two were Pioneer Corps soldiers from Swaziland, and eight were members of the British Army.  Though it is unknown if there were passengers on the Erinpura or British Trust, or lost in some other circumstance, I have appended their names to the list of Erinpura crew casualties.
The Swaziland soldiers were Privates Shamile Lulane and Msomane Tabede, both of whom are memorialized at the Swaziland 1938-1945 War Memorial, in Bethany, Swaziland.
The British soldiers, all of whose names are commemorated at the Brookwood Memorial in Surrey, England, are:
Pioneer Corps
Warrant Officer 2nd Class Albert E. Clayton, from Shropshire
Serjeant William Nicol
Lieutenant Percey G. Tredwell, from Hampshire
Serjeant Colin Wilde, from Jersey (Channel Islands)
Royal Army Medical Corps
Private Alfred E. Perrett, from Lymington, Hampshire
Corps of Military Police
Corporal William R. Gillett, from Buckinghamshire
Serjeant John Mills, from Liverpool
Indian Merchant Navy, and Merchant Navy, Casualties on the Erinpura
– Michael G. Moskow