Only a week about presenting the stories of Lieutenants Aboucaya and Oulman, l'Univers Israélite continued its coverage of Jewish military casualties in the French Army with an article about Sous Lieutenant Jacques Lévy.
A member of the 31st Infantry Regiment, Lieutenant Levy was killed at the Plateau de Bolante, in the Argonne, on January 8, 1915.  Awarded the Croix de Guerre and Legion of Honour (the latter posthumously), he was the husband of Esther (Zadoc Khan) Levy, and the son of Camille and Blanche (Blum) Levy.  He was born on February 17, 1884, in the 3rd Arrondissement of Paris.
As per the (prior) post covering Lieutenants Aboucaya and Oulman, I've included the "Partie à Remplir Par le Corps" cards from the "Mémoire des hommes" website.  Lieutenant Levy's name appears on page 55 of Les Israelites dans l'Armée Francaise.

The article in l'Univers Israélite is not a biographical profile as such. 
Or even, at all. 
Rather, it's presentation of a speech given on Sunday, February 7, 1915, in the chapel of rue de la Victoire, by Chief Rabbi J.H. Dreyfuss.  Certainly sincerely meant, it is – perhaps inevitably – far more hagiographical than biographical, giving the reader insight into questions of patriotism within theology; theology with patriotism.

Throughout a war that would last four more long and terrible years, both the l'Univers Israélite and The Jewish Chronicle would be forced by circumstance to present many further stories, often – at least early in the war – in the same tone and manner.   
A PDF of the article is available here. 
____________________
Le lieutenant Jacques Lévy
Lieutenant Jacques Lévy

l'Univers Israélite
February 12, 1915
The Jewish World
February 12, 1915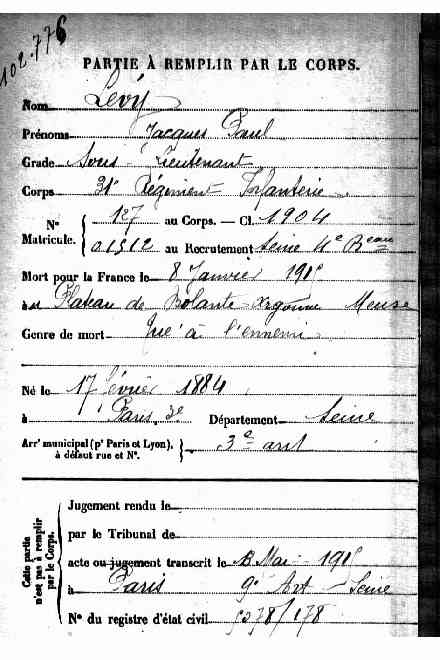 Chaque jour s'allonge la liste de nos jeunes héros, fauchés à l'aurore de leur carrière et dont la mémoire est déjà entourée de la triple auréole de la vertu, de la vaillance et du martyre.  Nous avons, l'autre jour, cité le lieutenant Aboucaya, le lieutenant Oulman.  Parlerons-nous du lieutenant Jacques Lévy? Les souvenirs qui s'attachent maintenant à lui sont si poignants que nous aurions hésité à y toucher, même d'une plume discrète, si au service qui a été célébré, à sa mémoire, dimanche dernier, dans l'oratoire de la rue de la Victoire, M. le grand-rabbin J.-H. Dreyfuss n'avait retracé sa carrière et évoqué ses vertus.
Every day lengthens the list of our young heroes, broken in the dawn of their careers and whose memory is already surrounded by the triple halo of virtue, bravery and martyrdom.  We, the other day, cited Lieutant Aboucaya, Lieutenant Oulman.  We speak of Lieutenant Jacques Lévy?  The memories that are now attached to him are so poignant that we would hesitate to touch, even a discreet pen, if the service which was celebrated in his memory on Sunday, in the chapel of rue de la Victorie, the Chief Rabbi J.H. Dreyfuss had traced his career and mentioned his virtues.
Voici quelques passages de la touchante allocution de M. le grand-rabbin de Paris.
Here are some passages of the touching speech by the Chief Rabbi of Paris.
"Notre regretté frère Jacques Lévy avait appris de bonne heure à connaître le côté sérieux de l'existence; son adolescence fut mûrie par l'épreuve, et une épreuve cruelle: la perte de son bien-aimé et respecté père.  Il se considéra aussitôt comme appelé par la Providence au plus noble et au plus difficile des devoirs, d'autant plus difficile pour lui qu'il était tout jeune encore: celui d'assumer, en faveur des siens, la responsabilité du chef de famille.  Ce fut là l'idée directrice de toute sa jeunesse: il n'en dévia pas un instant.  Et ici, mes frères, admirez la force peu commune de ce caractère dé jeune homme.  Tous ses goûts le portaient vers les choses intellectuelles; affamé de culture, particulièrement attiré vers les sciences spéculatives, ce qui ne l'empêchait pas, d'ailleurs, de posséder le sentiment exquis de l'art et surtout de la peinture, mais préoccupé, d'autre part comme nous l'avons dit, de ses devoirs de famille, de l'obligation, de compter avec les réalités pratiques de la vie, il eut le courage et la ténacité de mener de front ses études et les soins de son emploi.  Il fut licencié en philosophie en méme temps qu'il achevait son apprentissage commercial.  Comment un caractère d'une telle trempe ne devait-il pas refuser?  Et il réussit en effet." [réu-sir is probably an error]
"Our late brother Jacques Levy had learned early to know the serious side of life; his adolescence was matured by a test, and a cruel test: the loss of his beloved and respected father.  He immediately looked as called by Providence to the noblest and most difficult of duties, all the more difficult for him as he was still young: to assume, on behalf of his family, the householder's responsibility.  This was the thrust of his youth: he did not swerve a moment.  And here, my brothers, admire the unusual strength of character this young man.  All tastes were to intellectual things; a hunger for culture, particularly attracted to the speculative sciences, which did not prevent him, however, from possessing an exquisite sense of art and especially painting, but concerned about the other part, as we said his family duties, the obligation, to reckon with the practical realities of life; he had the courage and tenacity to juggle his studies and the care of his employment.  He graduated in philosophy in the same time he completed a commercial apprenticeship.  He graduated in philosophy in same time he completed a commercial apprenticeship.  How should he not refuse a character of such calibre?  And he indeed succeeded."
L'orateur rappelle avec émotion le marriage qui, il y a moins d'un an, avait uni le défunt à la fille "d'un pasteur qui est cher à nos coreligionnaires, non seulement par son mérite personnel, par son talent, par sa science, par son dévouement à toute épreuve, mais encore parce qu'il est l'époux de la fille du grand pasteur que fut l'inoubliable Zadoc Khan – je dis inoubliable dans le réelle acception du mot, car plus les années s'écoulent, plus son souvenir revit et revivra sans cesse dans toutes les circonstances de la vie de notre communauté."
He recalled with emotion the marriage, of less than a year, that had united the deceased to the daughter "of a pastor who is dear to our fellow believers, not only by his personal merit, by his talent, by his science, his foolproof dedication, but because he is married to the daughter of that great shepherd who was the unforgettable Zadoc Khan – I say memorable in the real sense of the word, because the more years flow, I remember him and saw live again and again in all circumstances of life in our community."
"Mais hélas ! sur cette maison à peine édifiée, si pleinement heureuse, a passé également le souffle de la tempête qui a déjà dévasté tant de foyers.
"But unfortunately ! this house built only if completely happy, has also experienced the breath of the storm that has already destroyed so many homes.
"Du même élan irrésistible qui, a l'appel de la patrie, a jeté à nos frontières tous les enfants de la France, le sergent Jacques Lévy quitte sa jeune femme et sa famille, va résolument prendre sa place a coté de ses frères d'armes.  Pour que rien ne manquât a cette nature d'élite, un patriotisme vibrant s'alliait en lui à une haute conscience.  Il prend part aux glorieux exploits de la Marne, se bat comme un brave, de sergent passe adjudant, d'adjudant sous-lieutenant, est cité à l'ordre du jour, et suprême récompense, proposé pour l'etoile de l'honneur.  Mais il tombe blessé et rest ramené du front.  Il aurait assez fait maintenant pour donner la mesure de sa vaillance; mais il veut faire plus que son devoir; il est heureux d'ailleurs et fier des lauriers glorieux qu'il a déjà cueillis…  Apres un court repos qui lui est imposé par sa convalescence, il demande à son colonel de le renvoyer au front.  Ce fut dans l'Argonne; a peine arrivé, il tombe une seconde fois, et helas ! pour ne plus se relever.
"At the same irresistible force, that has the call of his country, threw all the children of France upon our borders, Sergeant Jacques Lévy leaves his young wife and family, and will definitely take his place next to his brothers in arms.  That nothing might be wanting in this elite nature of vibrant patriotism was combined in him to a higher consciousness.  He took part in glorious exploits on the Marne, fights like a brave sergeant is promoted adjutant, and adjutant lieutenant, is quoted on the order of the day, and receives the star of honor for a supreme reward.  But he falls wounded and is brought back from the front to rest.  He would have done enough now to give the measure of his valor; but he wants to do more than his duty; he is also happy and proud of the glorious laurels he has already selected…  After a short rest imposed on him by his convalescence, he asked his colonel to return to the front.  It was in the Argonne; he has just arrived, he falls a second time, and alas! to rise no more. 
…La consolation!  Vous la trouverez dans le souvenir attendri, dans le souvenir béni de celui que n'est plus, vous la trouverez dans ces paroles écrites par lui, pour les siens, avant de retourner au front.  Dans cette page admirable, que j'ai lue et qui m'a remué profondément; l'homme se révèle tout entier.  C'est la page d'un philosophe et d'un croyant tout à la fois, d'un époux tendre, heureux et reconnaissant, d'un fils respectueux et pieux, d'un parent dévoue; c'est aussi la page d'un patriote, la page d'un soldat.  Dans quelques mots brefs, il parle de tout et de tous, de sa foi en l'idéal, éternellement beau et bon, de son culte de la vérité, de la loyauté, du devoir, de Dieu à qui il croit et à qui il rend grâces pour le bonheur des jours passés…  de tous les êtres chers qu'il confie à sa femme, de sa joie à repartir, ne laissant, comme il dit, aucune dette matérielle ni morale, de son amour de la France, de sa ferme confiance dans la victoire.  La dernière parole est une parole de touchante humanité en même temps qu'une parole de consolation.  "Si Dieu, le maître de ma vie, la prend, que tous les êtres chéris que je vais quitter à nouveau gardent, s'ils le peuvent, mon souvenir; mais qu'ils se consolent très vite de ma mort".
The consolation!  You find it in the tender memory, in the memory of blessed one is not, you will find in these words written by him, for his family before returning to the front.  In this admirable page, I read and it stirred me deeply; man is proven whole.  This is the page of a philosopher and a believer at the same time, a tender husband, happy and grateful, a respectful son and pious, devoted parent; it is also a page of a patriot, a page of a soldier.  In a few brief words, he talks about everything and everybody, his faith in the ideal, eternally beautiful and good, worship of truth, of loyalty, duty, God whom he believes and to which he gives thanks for the good of bygone days…of all the loving things that he told his wife, his joy at leaving, leaving, as he says, no material or moral debt of his love of France, his firm confidence in victory.  The last word is a word of touching humanity along with a word of consolation.  "God, the master of my life, takes all the loved ones that I'll leave and keep, if they can, my memory; but let them console themselves quickly of my death."
– Transcribed and Translated by Michael G. Moskow