Navy Lieutenant (JG) Eugene V. Erskine was the co-pilot of PB4Y-1 Liberator of Patrol Squadron VP-104, commanded by Lieutenant Richard S. Jameson, which was lost in the Pacific Theater – specifically, during a patrol mission to the South China Sea – on May 19, 1945.  Though his obituary – below – appeared in the Times on July 20, his name never appeared in Casualty Lists published in either June or July. 
Navy Bomber Pilot Killed In the Pacific on May 19
The image below shows Eugene Erskine as a student at Johns Hopkins University.
Lieut. (j.g.) Eugene V. Erskine of the Navy, a pilot with Bombing Squadron 104, was killed in action in the Pacific theatre on May 19, the Navy Department has informed his parents, Mr. and Mrs. Max Erskine, of 2173 East Twenty-Third Street, Brooklyn.  He was 24 years old and a native of New York.
He held a B.A. degree from Johns Hopkins University.  He enlisted on July 4, 1942, and received his wings in 1943.  His father is a dress manufacturer.  Besides his parents, he leaves a brother, Sgt. Robert Erskine, now with the Ninth Army in Germany.
____________________
The document below (from Fold3.com), from VP-104's War Diary for May of 1945, covers – in a brief paragraph – the loss of Lt. Jameson's PB4Y.  There is no specific information about the cause of the plane's loss, albeit it was not attributable to combat. 
The crew (their towns and cities of residence taken from the 1946 book Combat Connected Naval Casualties, World War II, by States. 1946. U. S. Navy, Marine Corps, Coast Guard) consisted of the following:
Lieut. Richard Scott Jameson – Boston, Massachusetts
Lieut. (JG) Eugene V. Erskine – New York
Ens. David Winton Lanquist – Duluth, Minnesota
AMM3C James Walter Garrison – Ravenna, Texas
AOM3C Charles Jay Arnett – Sioux City, Iowa
ARM3C Roger Henry Skews – Waukgean, Illinois
ARM2C William Hamilton Ridge – Bloomington, Indiana (also Florida?)
ARM3C Donald Grover Fanelli – Atco, New Jersey
AMM3C Willard Sydenham Dodsworth – Franklin, Il.
AMM2C George Thomas Schoenwalder, Jr. – Johnstown, Pa.
AMM3C Louis Franklin Morris – Tuscaloosa, Alabama
The names of the crew are commemorated at the Tablets of the Missing at the Manila American Cemetery, in the Philippines.
____________________
The two maps below, generated from (ahh, where else?!…) Google maps, show the position where PB4Y-1 38890 was lost: The South China Sea, approximately 100 miles east-southeast of Pratas Island.
____________________
The image below is a larger-scale map of the above area, showing the position of the Liberator's loss relative to uninhabited Pratas Island.  There is little to show except for water – and – more water.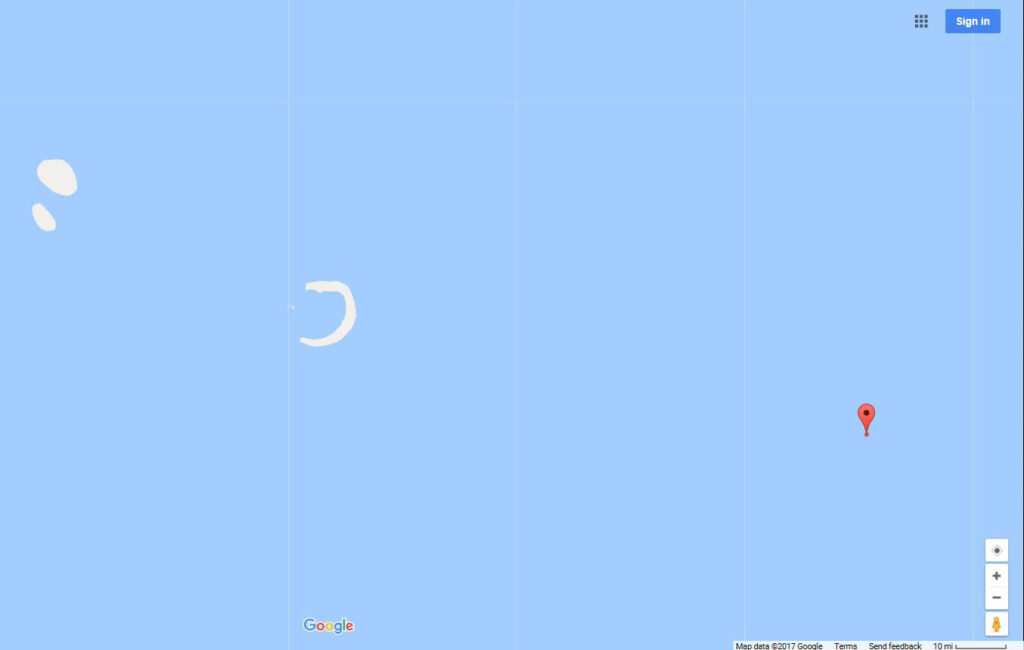 Some other Jewish military casualties on Saturday, May 19, 1945, include…
Killed in Action
– .ת.נ.צ.ב.ה. –
Beitch, Morris, Pvt., 37647567, Purple Heart (Killed at Okinawa)
United States Army, 77th Infantry Division, 307th Infantry Regiment
St. Louis, Mo.
Chesed Shel Emeth Jewish Cemetery, St. Louis, Mo.
American Jews in World War II – 207
Kalish, Norbert, 2 Lt., 0-41915, Purple Heart (Killed at Okinawa)
United States Marine Corps, 6th Marine Division, 22nd Marine Regiment, 1st Battalion, B Company
Mr. Julius Kalish (father), 301 West 15th St., Linden, N.J.
Born 11/5/22
Casualty List 5/13/45
Mount Lebanon Cemetery, Iselin, N.J.
American Jews in World War II – 240
Stein, Robert, HA 1C (Hospital Apprentice), 9071256, Purple Heart (Killed at Okinawa)
United States Navy
Mr. Hyman Stein (father), 6413 Bay Parkway / 325 East 21st St., Brooklyn, N.Y.
1926
Casualty List 7/10/45
Cemetery Location Unknown
American Jews in World War II – 454
Died Non-Battle

Silverstein, Marvin M., Pvt., 32982076
United States Army Air Force, 1562nd Army Air Force Base Unit
Mrs. Belle E. Silverstein (mother), 1460 Grand Concourse, Brooklyn, N.Y.
Born 1926
MACR Name index – No number on Index Card
Manila American Cemetery, Manila, Philippines – Plot A, Row 9, Grave 105
American Jews in World War II – Not Listed
Prisoner of War
Zack, Milton E., 2 Lt., 0-707368, Navigator-Bombardier
United States Army Air Force, 11th Air Force, 28th Bomb Group, 77th Bomb Squadron
Hakodate POW Camp (Babai Machi), Hokkaido, Japan
Mrs. Pearl Zack (wife), 50 Harlem St., Dorchester, Ma.
Born 8/21/20; Died 12/13/06
MACR 14472; Aircraft: B-25J 43-36140, Pilot – 2 Lt. Raymond B. Lewis, 6 crewmen – 3 survivors
Casualty List 6/29/45
American Jews in World War II – Not Listed
Milton Zack's moving story – of his training as an Aviation Cadet, service as a Navigator / Bombardier, being shot down, survival as a POW of the Japanese, liberation, and eventually his postwar life – is available under the appropriate title "Milt's Military Memoirs".

Milton's B-25, piloted by 2 Lt. Raymond B. Lewis, was one of three B-25J Mitchell bombers of the 77th Bomb Squadron of the 11th Air Force's 28th Bomb Group, which were lost during a mission to Cape Minami on Shimushu Island (the second northernmost island of the Kuril Islands) on May 19, 1945.

The other two aircraft were B-25J 43-36152 (MACR 14471), piloted by 1 Lt. John F. Mitchell, from which there were no survivors, and 43-36134 (MACR 14473), piloted by 2 Lt. Harold V. Beever, which landed at Petropavlovsk, Russia, with the plane's crew of six surviving uninjured. 
Though Lt. Lewis' entire crew survived the plane's crash-landing and were captured, only Lieutenant Zack, flight engineer Cpl. Robert L. Trant, and aerial gunner Cpl. Walter Bradley survived the war.  As reported by the Japanese, Lt. Lewis, co-pilot F/O Edward N.F. Burrows, and radio operator Cpl. William E. Bradley lost their lives when the ship on which they were being transported to mainland Japan (the "Tenryo Maru") was torpedoed and sunk on May 29, 1945.   
The image below shows Milton in the bombardier's compartment of a B-25 Mitchell during training in the United States. 
The image below, at the website of the Center for Research: Allied POWs Under the Japanese (created by the late Roger Mansell) shows Milton and his fellow crewmen in happier times. 
Front row:  Lt. Zack, Lt. Lewis, and F/O Burrows. 
Rear row: Corporals Bailey, Trant, and Bradley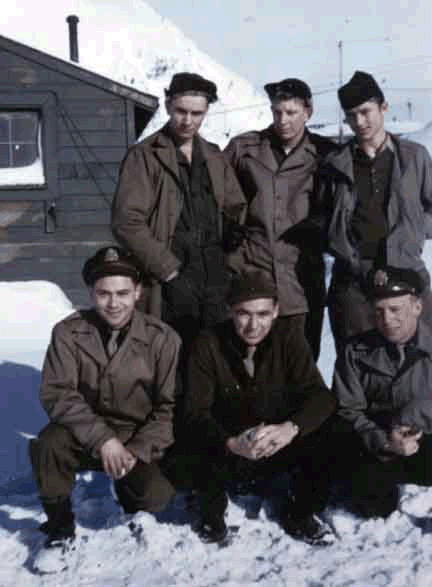 Lt. Lewis and F/O Burrows are also seen in this photo.
Paralleling Milton's story, Walter Bailey's account of his military (and postwar) experiences – transcribed from audiotape – is also available at the Center for Research: Allied POWs Under the Japanese website, under the appropriate title Walter Bailey: B-25 Crewman – Zack crewman.  Walter's story is very detailed, profoundly moving, and quite explicit about the physical and emotional nature of capture by – and captivity under – the Japanese in the Second World war.
A summary of the story of B-25J 43-36140 and her crew is also available at Pacific Wrecks.

And, another Incident:
Safely parachuting after a bombing mission to Japan…

Polansky, Harry H., 1 Lt., 0-686687, USAAF, Bombardier-Navigator, Distinguished Flying Cross, Purple Heart
20th Air Force, 40th Bomb Group, 45th Bomb Squadron
Parachuted with crew over Iwo Jima, after mission to Hamamatsu
Mr. and Mrs. Morris and Bessie Polansky (parents), 1203 North Fulton Ave., Baltimore, Md.
Born 1921
B-29 # 271, Pilot – Major Donald M. Roberts, 12 crewmen – all survived (No MACR Index Card)
http://www.40thbombgroup.org/45th.pdf
http://www.40thbombgroup.org/memories/Memories59.pd
American Jews in World War II – 143
Reference
Dublin, Louis I., and Kohs, Samuel C., American Jews in World War II – The Story of 550,000 Fighters for Freedom, The Dial Press, New York, N.Y., 1947