If Phil Goldstein's P-38 was unusual in terms of the name it carried – JEWBOY – then one other second world war fighter plane – a Hawker Hurricane of Number 213 Squadron, Royal Air Force – was notable for the symbol it carried:  A Magen David; the Shield of David.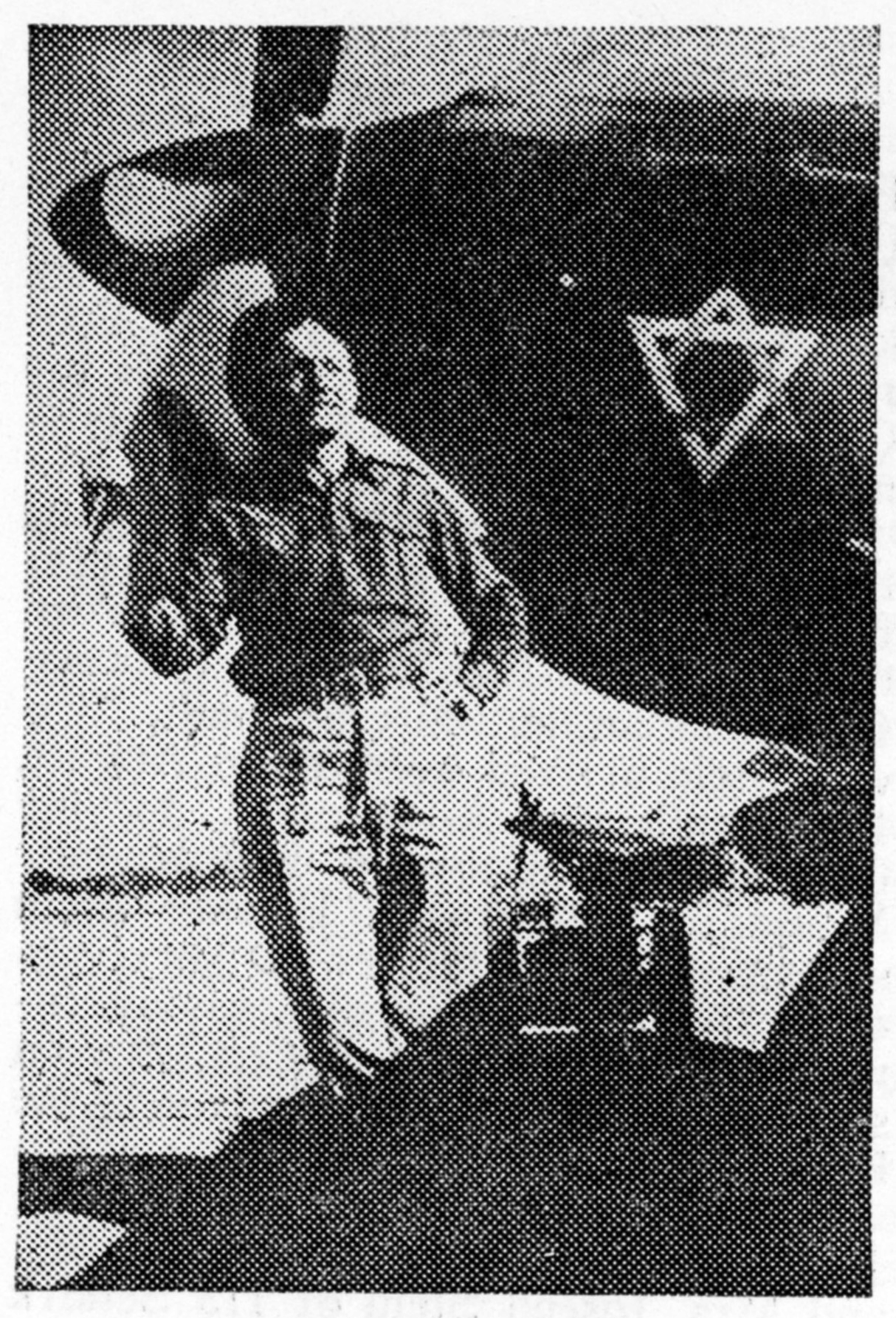 The pilot?  Flight Officer Gordon Steinberg, a member of the Royal Canadian Air Force from Toronto.
Sadly, he did not survive the war.
A biography of Gordon's too-brief life from Canadian Jews in World War II – Part II: Casualties (the companion volume to Canadian Jews in World War II – Part I: Decorations, both published in 1948) follows:
FLYING OFFICER GORDON STEINBERG, J-17346, of Toronto, died of injuries received while in action near Alexandria, Egypt, on February 17, 1944.  He was forced to bail out of his plane as a result of enemy action.  He was buried at sea.
Flying Officer Steinberg enlisted in the air force at Toronto on September, 1940.  He was trained at St. Hubert, Victoriaville, Dunnville, Regina, and at Yorkton where he was awarded his pilot's wings on November 6, 1941.  In December of the same year he landed in England and proceeded for further training as a fighter pilot.  Flying Officer Steinberg went to Africa in June, 1942 while the Axis forces were pushing the Allied Eighth Army back into Egypt.  Attached to the 213th R.A.F. (Middle East) Squadron, he participated in the battles in which Montgomery's forces repelled the enemy.  He was attached to the Eighth Army all the time this force was advancing across the African continent from Egypt to Tripoli.  While in Africa Flying Officer Steinberg was commissioned and promoted three times, attaining the rank of flying officer a few months before his death.  He visited "Palestine" several times on his leaves and developed a great interest in the country.  The R.C.A.F. wrote to his family:  "Flying Officer Steinberg completed 92 operational flights.  His duties included patrols, air-sea rescue searches and scrambles against enemy aircraft."
Born in Toronto on October 9, 1914, Flying Officer Steinberg was the son of Mr. and Mrs. Abraham Steinberg of 127 Maria Street.  He attended Strathcoma Public School and Hamberside Collegiate Institute from which he was graduated in 1934.  Flying Officer Steinberg had been a member of the Jewish Boy's Club.  Prior to enlistment he had been employed as a salesman, clerk and truck driver.  A brother, Private Lawrence Steinberg, served in the army. 
An aspect of F/O Steinberg's life not touched upon in the biography is the fact that he'd married in November of 1941, while training to be a pilot.  His wife was Ruby Alma (Schopf) Steinberg, who resided at 3251 Dundas Street, in Toronto.  Also not mentioned were his four siblings (Bernice, Lawrence, Lily Ann, and Louis), as well as his mother, Bella (Nagelburg).  Like his father, Bella was born in Austria and naturalized as a Canadian citizen.
____________________
F/O Steinberg's death on his 92nd operational mission was not due to enemy fighters, flak, or weather.  It was due to mechanical failure:  The engine of his Hurricane fighter failed in flight.

On February 17, 1944, he departed at 9:30 A.M., with Flight Sergeant S.G. Pickford, from 213 Squadron's landing ground at Ikdu (also known as "Edku": a town in the Beheira Governorate, east of Alexandria and very close to the shore of the Mediterranean sea) on a convoy patrol mission.  Approximately one hour later, while over the sea roughly between Marsa Matruh and Alexandria, his engine cut as dense black smoke poured from it.  F/O Steinberg called F/Sgt. Pickford over his radio indicating that he was going to bail out. 
This, he immediately and successfully did.
The loss of his plane and his parachute descent were witnessed by Royal Hellenic Navy Commander N. Sarris aboard the escort destroyer H.H.M.S. Themistocles, who immediately steered his ship towards the position at top speed.  He reached the location (31 26 N – 29 16 E; about 35 miles west-northwest of Alexandria) about ten minutes later.  Through the dedicated efforts of the Themistocles' crew F/O Steinberg was eventually found, but sadly, his life could not be saved. 
He was buried at sea that afternoon.
The following two images, obtained from The National Archives in Kew, extracted from the Squadron Record and Squadron Summary for No. 213 Squadron, cover the events of 17 and 18 February 1944.

____________________
As is typical for Casualty Files covering deaths of servicemen in the British Commonwealth forces (analogous to Individual Deceased Personnel Files for American military deaths), the documentation for F/O Steinberg includes a detailed inventory of his effects, which is shown below: 
What is notable in the list of F/O Steinberg's possessions is obvious and clear mention of his yarmulkah, or kippah ("1 small black cap"), tefillin ("2 prayer straps"), and tallitot ("4 Jewish shoulder capes"), amidst a variety of the typical personal possessions of a serviceman and aviator. 
Later that year, his wife Ruby, who F/O Steinberg designated as the recipient of his small estate, instructed authorities to, "…give his holy books & religious articles to some religious institution. – Thank You". 
With the passage of over seventy-three years and the absence of documentation (assuming any notes were kept, in the first place), there is almost certainly no way of knowing what eventually became of these items.  One imagines that they found their way back to the Jewish community of Montreal, or, that they were donated to a synagogue, school, or Jewish family in Alexandria.  Whoever received them likely never knew of the bravery, dedication, or identity of their original owner, but no matter.  It would be nice to think; it would be nice to dream, that F/O Steinberg would have been satisfied knowing that their purpose and meaning would continue.  
____________________
F/O Steinberg's name is commemorated on Column 281 of the Alamein Memorial, in Egypt. 
____________________
As for the Hurricane?  As shown in the photo, P/O Steinberg's "personal" aircraft carried a Magen David composed in the style of interlocking triangles, in two colors (one light and one dark) painted on the forward fuselage.  While his Casualty File and Number 213 Squadron's historical records for February of 1944 indicate that he was lost in Hurricane IIC BP563 (a plane with over 250 flight hours), and Number 213 Squadron's Hurricanes were identified by the code letters "AK", neither set of documents list the aircraft's specific, individual identification letter.  In the absence of other photographs of the plane, it is impossible to tell if F/O Steinberg was lost in his "own" plane, or another aircraft.   
The image below, from History of War, shows a Hawker Hurricane in North Africa, with the letters "AK" indicating its assignment to Number 213 Squadron RAF.
The 213 Squadron Association website carries a photo essay – The Hornet's Sting – that appeared in FlyPast magazine in 1995.  Two images show Hurricanes bearing the Squadron's "AK" code letters, while a third image shows over thirty of the squadron's pilots at a Christmas Party at Ikdu in 1943.  Perhaps F/O Steinberg was among them?

References
Forman, Wallace R., B-17 Nose Art Name Directory, Phalanx Publishing Co., Ltd. (Specialty Press), North Branch, Mn., 1996
Forman, Wallace R., B-24 Nose Art Name Directory, Phalanx Publishing Co., Ltd. (Specialty Press), North Branch, Mn., 1996
Canadian Jews in World War II – Part II: Casualties, Canadian Jewish Congress, Montreal, Quebec, 1948.
RHS Themistocles, at
http://uboat.net/allies/warships/ship/5921.html
Number 213 Squadron RAF
At Wikipedia
https://en.wikipedia.org/wiki/No._213_Squadron_RAF
At History of War, at
http://www.historyofwar.org/air/units/RAF/213_wwII.html
Number 213 Squadron Association, at
http://213squadronassociation.homestead.com/
Number 213 Squadron Association – The Hornet's Sting (From FlyPast magazine No. 175, 1995), at
http://213squadronassociation.homestead.com/Flypast/flypastarticle.html
Hawker Hurricane IIC in No. 213 Squadron Service, at
http://www.historyofwar.org/Pictures/pictures_hurricaneIIC_213sqn.html
The National Archives (Kew), Royal Air Force Operations Records Books 1939-1945, at
http://www.nationalarchives.gov.uk/help-with-your-research/research-guides/raf-operations-record-books-1939-1945/