BROTHER MEETS BROTHER
 February 19, 1943
     First let me tell you about our trip.  In our convoy we had some African Negro soldiers.  At each stop they would spill out of the trucks and in a few moments the ground would be dotted with small tents.  Each two soldiers had a little tent.  They used to look at us, the drivers, with envy, for living inside our trucks and being able to use electric-light while they had to crawl into their tiny tents.  The rain that poured down on us for the first few days of our trip, caused them great discomfort.  They dug themselves in under the cars and often the car would be stuck in the holes and pits that they had dug under it.  The trip was difficult and tiring.  For the most part the road was blocked by big trucks transporting tanks.  On either side of the road strips of the highway were still sown with mines.  Often you could see a cross stuck into the middle of the road, to mark a driver who had swerved to one side and been blown up.  It was impossible to bury him in the fields which were full of mines and so he was buried on the road, close to the cement strip.  A big sign was stuck over his grave reading: "Blown up by mines; attention; drive carefully."
 ***
     One night we stopped in an area that was free of mines.  It was a fragrant spring evening.  Not far from where we were was a barbed-wire fence with cans marked with skulls and crossbones, a warning that this field was sown with mines.  The space that we camped in was ploughed and trodden by the wheels of cars and trucks and the flowers in it were all trampled.  On the other hand, the field surrounded by barbed wire, untouched by a man's foot or a wheel, was full of fragrant spring-blossoms.  We stood near the fence with our eyes skimming over the beautiful field and our nostrils drinking in the wonderful scents of the flowers.  The mines had been sown there before the rains and the flowers had just begun to bloom.  Among the flowers you could see the yellow metal of the German mines gleaming here and there.  The heart was filled with the desire to stretch out on the field and to roll among the flowers, as children love to do.
***
      That same night I witnessed a wonderful scene.  The Negroes had gathered together and we were there too.  We began to sing some of our songs and they became very enthusiastic about them.  We asked them to sing us some of their songs.  They settled themselves in a half-circle and began to sing a song in several voices.  It was wonderful singing.  This was a solo sung with an occasional chorus.  Then they began to dance.  We clapped hands in time to it and they continued to sing in response to our admiration.  We sat there until midnight, as if we had been enchanted, listening to their strange and wonderful singing.  Finally one of them got up and said in English, "Before we go to sleep we would like to sing our hymn.  We ask you to rise and to uncover your heads."  We rose and heard their concluding song standing.  Their hymn is not sung in the usual way.  One of them chants something and the others repeat his words in song.  He reads something out of their prayers and the others shade their eyes with their hands and sing.  Their hymn is like a chanted prayer – quite wonderful.
      Yes, I forgot to say that while the chorus was singing one of our boys, B.Y., who has a very good voice, came close to them and caught the melody they were singing.  They tiptoed up to him silently to listen to him humming, for he had caught on.  At the end of one verse they raised him up on their shoulders in enthusiasm.  Ever since we have called B. a Negro name – Mephuta.
      After the singing of the hymn we scattered to sleep in the different trucks.  But I think that not one of us slept that night: the scent of the flowers, the singing of the Negroes and, above all, the spring night.  These Negroes are simple people, and the relations between them are very fine.  Some of them are socialists and know a great deal more than we can tell from a single hurried meeting.  Some of them have visited Palestine and know something of our problems.  Many strange and different worlds touch in the life of an army.
 Moshe Mosenson
Letters From the Desert (pp. 168-170)

      There is a heavy storm outside and I feel very depressed.  When I feel depressed I try to escape from it by writing to you.  Yesterday we received the list of names of our friends who were drowned.  They were good and close friends.  It was in vain, then, that we wove a web of hopes and illusions for their sakes, hoping that perhaps they had been saved or picked up by other ships…
      We have been bereaved of many dear comrades and among them friends to whom I was attached by very close ties.  The thought that they are gone forever fills me with a kind of horror.  We went through so much together and shared so many burdens.  We experienced the bitterness of the retreat and the joys of victory together and we shared our pangs of distress at the weakening of our ties with home. 
      Where is my dear friend, H.C. [Chayim Caspi or Chaim Cikanowski – MGM], with his deep feeling and his delightful sense of humor and gift of expression?  You probably will remember his name from the pages of "The Jewish Soldier".  We had grown to love each other.  And P., from Degania Beit, the good, honest heart whom I learned to love in my first days in the army – and tens of others.  One hundred and forty of our boys were drowned that night.  Many of them had wives and children, families and parents.  Cursed war!  But something else oppresses me: we were supposed to embark on that same night.  The whirligigs of fate.
      Forgive me for being so sad and for writing you this way.  What can I do?  This evening I sat down in a corner of our newspaper office.  On the table in front of me lay the list of names surrounded by a black border.  The boys came in, one after the other, quiet and stunned.  One comes in, and when I give him the list silently, he sits down, and is silent – and so with a second and a third.  There were many of us and all of us silent.
      A young boy came in and looked through the list for the name of his friend.  He himself escaped death by a miracle on several occasions.  The list dropped out of his hands and he whispered, "B's gone.  I once gave him my girl's address – so that he would write her if I should be missing.  And now he…"
      Another one came in with a hidden fear in his face.  I knew why.  He had a brother on that list.  I looked at him steadily and he looked back and understood.  He took my hand that was lying on the table and pressed it, his eyes full of tears.  I pushed the list away as I gave it to him, saying, "I know.  I could see it in your eyes." …  And he, too, sat down among the silent mourners. 
      Forgive me.  It is true that we are members of a movement in which death has been our constant companion.  Why should we cultivate these feelings?  But when we lose comrades like these, we realize how few we have who are fully ready for the trials of the present and the future.  How few.  And when you lose so many out of a few – a dread of the future comes over you, and weighs on your heart…
 Moshe Mosenson
Letters From the Desert (pp. 194-195)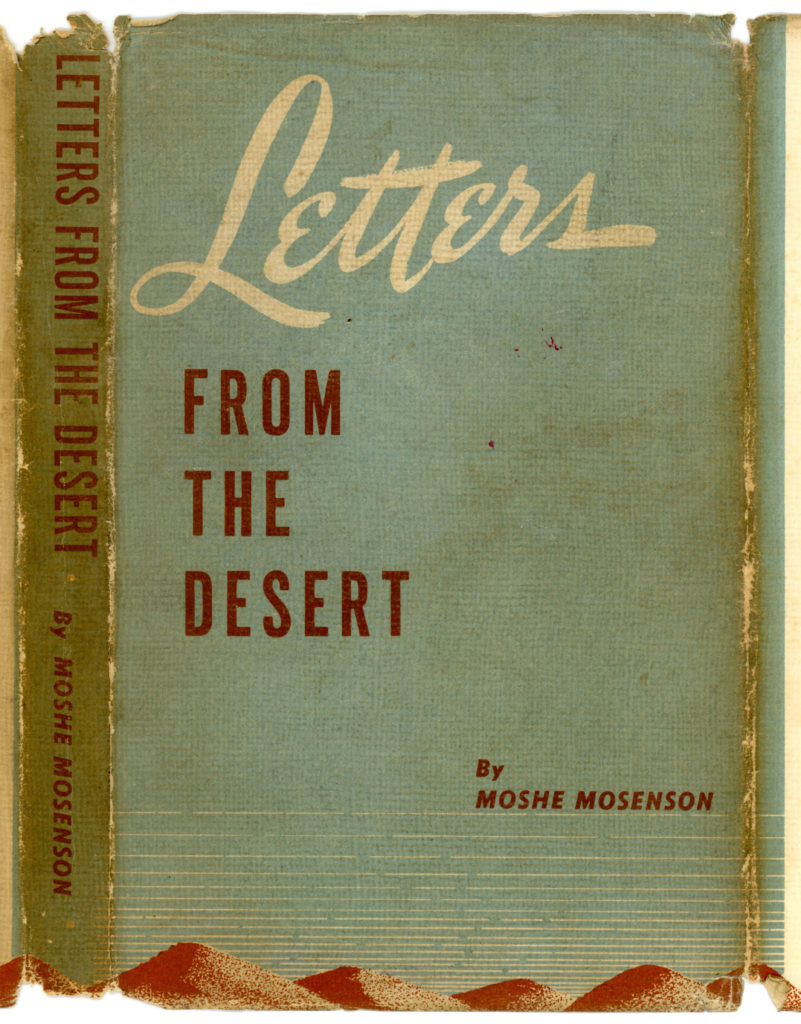 Cover of Moshe Mosenson's Letters from the Desert, published in 1945.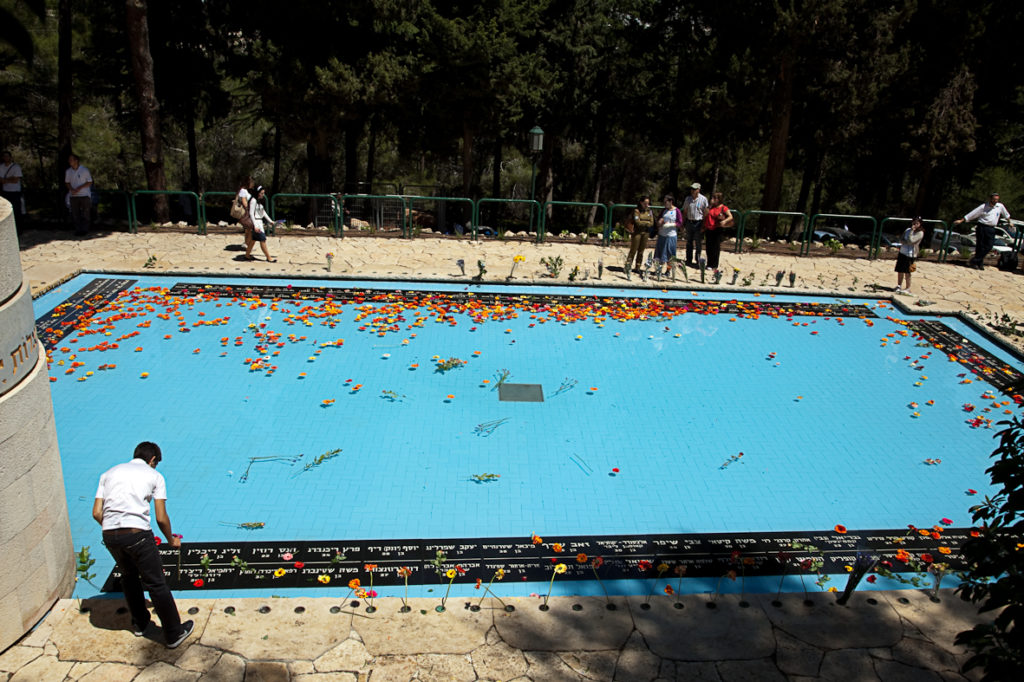 Placing flowers around the periphery of the memorial.  An image from the Oneg Shabbat blogspot.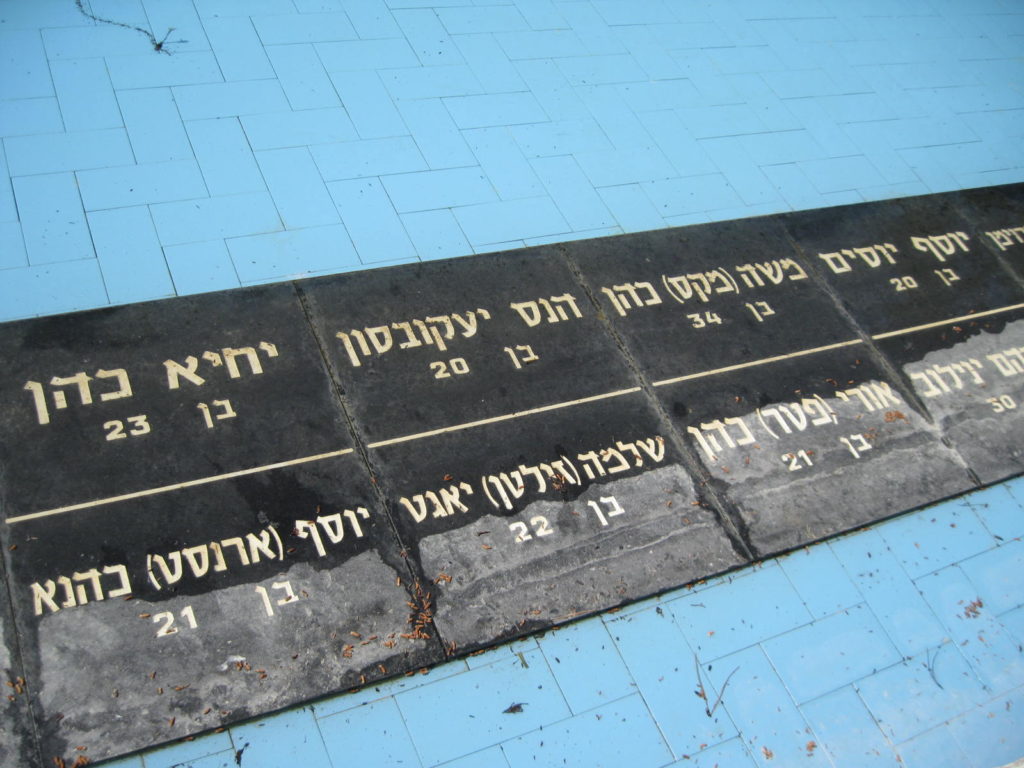 Some names.
Upper row, left to right:
Yechye Cohen, PAL/630
Hans Yaacobson, PAL/1206
Moshe (Max) Cohen (Moses Kahan, PAL/556?)
Josef Yashim, PAL/30347
Lower row, left to right:
Josef (Ernest) Kahane (Yosef Cahana, PAL/1048?)
Shlomo (Zoltan) Yaget (Zoltan Jaget), PAL/30018)

Uri (Peter) Cohen (Peter Stefan Kahn, PAL/1161?)
– Michael G. Moskow