On June 23, 1944, the Times published a Casualty List encompassing the states of New York, New Jersey, and Connecticut, comprising the name of 3,073 soldiers "Missing  in Action" in the Asian, European, Mediterranean, and Southwest Pacific Theaters of War, as well as an extensive list of men reported as prisoners of war in Germany.  Of the Missing, the overwhelming majority were reported from the European and Mediterranean Theaters of War, with only seven soldiers – airmen, specifically – reported from the Southwest Pacific.
Missing in the Southwest Pacific was Sergeant Michael E. Drucker.  An aerial gunner in the 64th Bomb Squadron of the 43rd Bomb Group (5th Air Force), his B-24D Liberator (42-40525, "Toughy"), piloted by 1 Lt. John E. Terpning, vanished during a mission from Nadzab, to Sarmi.  On March 5, 1946, almost two years later, with no further information forthcoming, Sgt. Drucker's obituary – transcribed below – was published in the Times. 
Now Listed as Killed In New Guinea Mission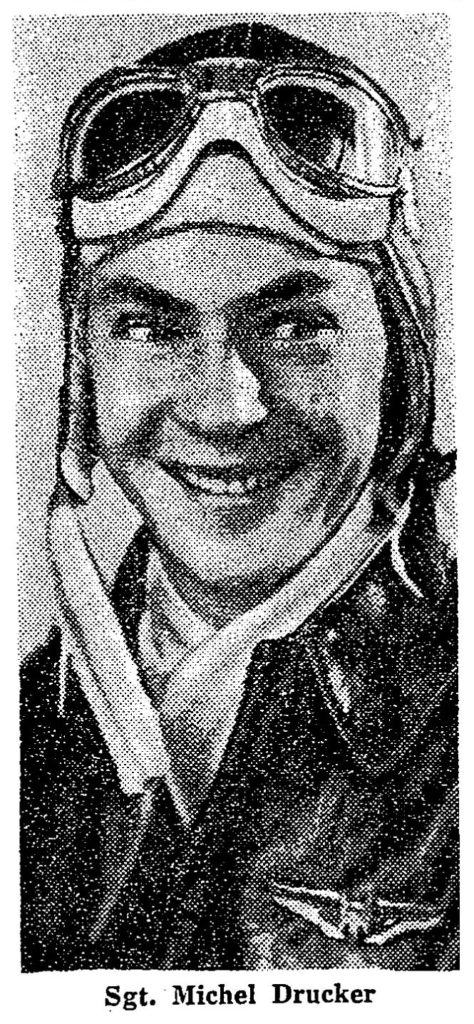 Sgt. Michel [sic] (Mickey) Drucker of the Army Air Forces, who was reported missing in action on May 7, 1944, while on a bombing mission from Nadzab, New Guinea, is now presumed to be dead, the War Department has informed his parents, Mr. and Mrs. Marcy Drucker of 359 Fort Washington Avenue.  Sergeant Drucker did radar and radio work on a B-24 Liberator bomber.
Born in New York on Jan. 27, 1922, Sergeant Drucker was graduated from Haaren High School, where he was a member of the swimming team, and then attended New York University.  Later he was associated with a wholesale hardware concern, the Guarantee Speciality Company, 60 Lispenard Street, in which his father is a partner.  He enlisted on Aug. 15, 1942.
Besides his parents, he leaves a sister, Miss Eveline Drucker of New York.
____________________
Here are three pages of the Missing Air Crew Report (#5664) for Toughy and her crew. 
Toughy was originally assigned to the 529th Bomb Squadron of the 380th Bomb Group.  The image below, from the 380th Bomb Group wesbite, gives a nice impression of her nose art, which consists of a simple nickname.  By the time the aircraft has been transferred to the 43rd Bomb Group, the bombardier's nose "greenhouse" had been replaced with a field-installed A-6 tail turret, giving the aircraft better protection against head-on fighter attack.
____________________
Nineteen years after they went missing, the remains of Toughy and her crew were discovered in mountainous terrain five miles northeast of Nadzab. 
The remains of the crew were interred at Arlington National Cemetery, in a group burial, on October 18, 1974.  (Section 30, Grave 486)  In April of 2013, after further investigation of the crash site, the remains of S/Sgt. Raymond E. Thompson (whose name also appears on the monument) were buried at Olney Cemetery in Pendleton, Oregon.  
____________________
The image below is a contemporary (2017) Google Street view of the wartime residence of the Drucker family, at 359 Fort Washington Ave., in the (I assume…?!) Washington Heights section of New York. 
____________________
Some other Jewish military casualties on Sunday, May 7, 1944, include…
Killed in Action
– .ת.נ.צ.ב.ה. –
Friedland, Max, Lt., 96919V, Wireless Operator / Air Gunner (At Maleme Airdrome, Crete)
South African Air Force, No. 24 Squadron
Mr. and Mrs. Isaac and Sarah Friedland (parents), 9 Alexandra Ave., Oranjezicht, Cape Town, Western Cape, South Africa
Born 1917
Aircraft: Martin Marauder II; Serial number: FB508 ("T" – "HonkyTonk"); Pilot – Lt. Deryk Broosbank; 6 crew – no survivors
Buried at Suda Bay War Cemetery, Crete, Greece – Collective Grave 13,B,12-15
http://aviationarchaeology.gr/wp-content/uploads/2014/12/Martin-B26-Marauder-losses-in-Greece-1943-1945.pdf
Eagles Victorious – 189
85 Years of South African Air Force – 292, 416
South African Jewish Times 9/7/45
Klippel, John Owen, F/O, 412149, Navigator
Royal Australian Air Force, No. 31 O.T.U. Unit, Debert / Headquarters, Ferry Command, Royal Air Force / Number 45 Atlantic Transport Group
Mr. and Mrs. Alec and Haidee Klippel (parents), Eridge Park Road, Bowral, New South Wales, Australia
Born Turramurra, New South Wales, Australia; 11/28/21
Mosquito XX, KB220, Pilot – F/Lt. George H. Wood; Aircraft lost during severe icing conditions on ferry flight between BW1 airfield, Greenland, and United Kingdom, via Iceland
Commemorated at Runnymede Memorial, Surrey, England – Panel 257
World War II Crash Sites in Iceland
Aviation Safety Network
The Jewish Chronicle 5/26/44
Silverman, George S., 2 Lt., 0-688116, Navigator, Air Medal, Purple Heart, 18 Missions
United States Army Air Force, 5th Air Force, 43rd Bomb Group, 64th Bomb Squadron (also in the Toughy crew)
Miss Florence Langbaum (fiancé), 70-39 Kessel St., Forest Hills, N.Y
Mrs. Lena Silverman (mother), 111-14 76th Ave., Forest Hills, N.Y.
Mr. Harry N. Below (brother in law), 111-32 76th Ave., Forest Hills, L.I., N.Y.
Born 3/19/19; Last letter to fiancé written 5/6/44
Casualty List 6/23/44
Long Island Daily Press 6/22/44
American Jews in World War Two – 444
Aviator – Prisoner of War
Barron, Israel Manuel, 2 Lt., 0-684468, Co-Pilot, Air Medal, 1 Oak Leaf Cluster, Purple Heart, 13 Missions
United States Army Air Force, 8th Air Force, 801st Bomb Group, 406th Bomb Squadron
(Also wounded 8/9/43)
Stalag Luft III (Sagan), Stalag VIIA (Moosburg)
Mrs. Eleanor J. Barron (wife), 160 University Road, Brookline, Ma. / 146 River Road, Winthrop, Ma.
Born Roxbury, Ma., 2/19/20
MACR 4603, B-24D 42-40530, Pilot – 1 Lt. George Pipkin, 8 Crewmen – 7 survivors
Aircraft shot down by Feldwebel Hugo Fütscher (Fintscher?) of 12 / NJG (Nachtjagdgeschwader) 3
Casualty List (Liberated POW) 6/4/45
American Jews in World War Two – 150

The photograph and other images below are part of the Israel Manuel Barron collection at the Library of Congress Veterans History Project.  The digitized items include Israel's German POW information card, transcribed Missing Air Crew Report, and POW Diary ("A Wartime Log").  Through the generosity of Mr. Barron and the foresight of the Veterans History Project, the documents are fully; openly available to the public, the pages on display "below" giving an impression of the nature of this material, which is as fascinating as it is moving.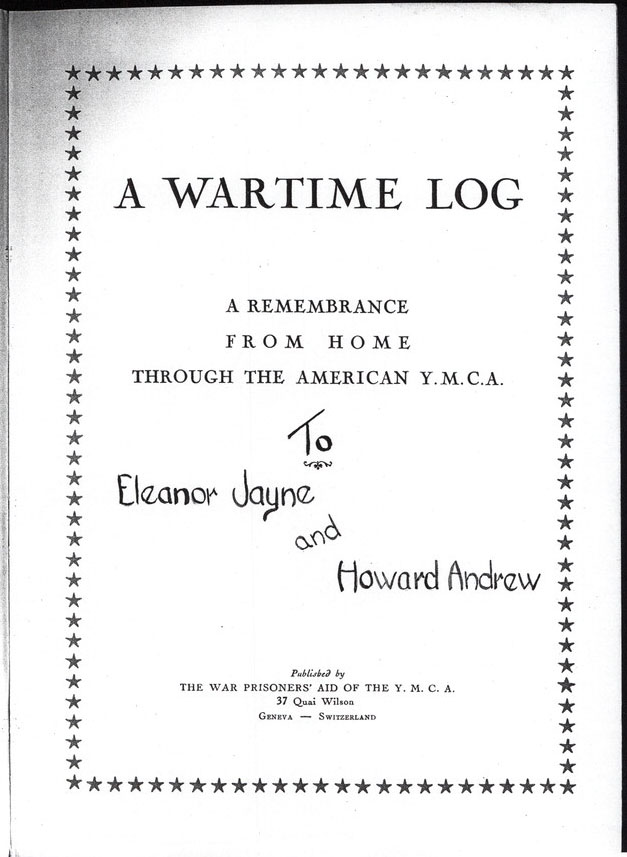 The Israel Barron collection also includes a video file of an interview with Mr. Barron, conducted on November 11, 2002. 
References
General
Dublin, Louis I., and Kohs, Samuel C., American Jews in World War II – The Story of 550,000 Fighters for Freedom, The Dial Press, New York, N.Y., 1947.
B-24D 42-40525 "Toughy"
History of Aircraft (at website of 380th Bomb Group)
Loss and Postwar discovery of aircraft (at Pacific Wrecks website)
Burial of crew at Arlington National Cemetery (at ArlingtonCemetery.net)
Israel Manuel "Red" Barron and B-24D 42-40530

Collection at Veterans History Project (General Description)
POW Diary – "A Wartime Log" (27 pages)
B-24D 42-40530 (Description of loss of aircraft and fate of crew – "Airwar Over Denmark" website)
Loss of 42-40530 also described at juhlerdenmark (Kim Juhler) website
Max Friedland
Brent, Winston, 85 Years of South African Air Force – 1920-2005, Freeworld Publications, Inc., Nelspruit, South Africa, 2005
Martin, Henry J., and Orpen, Neil, South African forces, World War II. Vol. 6, Eagles victorious : the operations of the South African forces over the Mediterranean and Europe, in Italy, the Balkans and the Aegean, and from Gibraltar and West Africa, Purnell, Cape Town, South Africa, 1977
Martin B-26 Marauder Losses in Greece, at Maritime Aviation Archeology