Complete Poetic Works of Hayyim Nahman Bialik
Translated from The Hebrew
Edited with Introduction by Israel Efros (Illustrations by Lionel S. Reiss)
The Histadruth Ivrith of America, Inc.
New York, 1948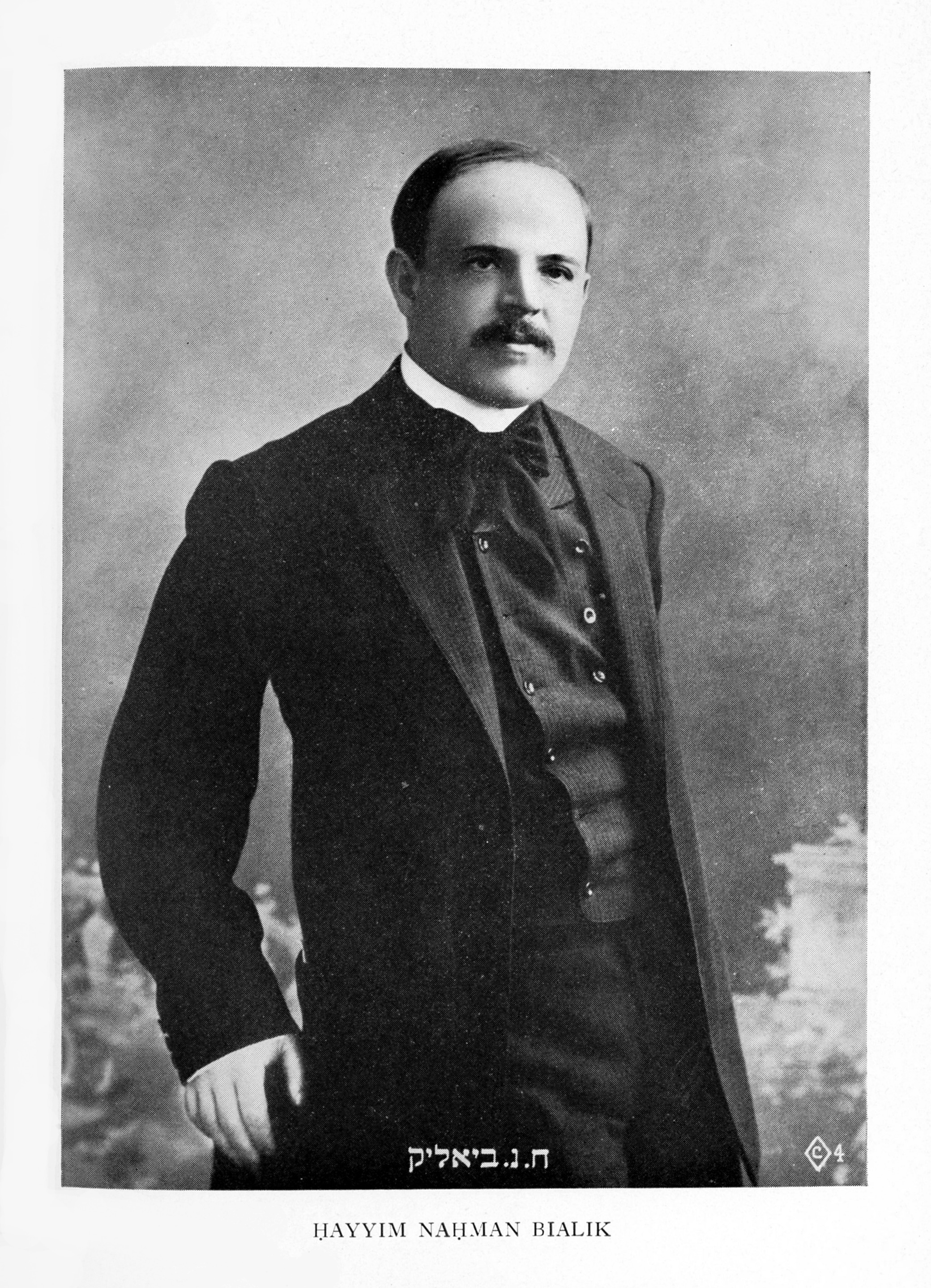 ____________________
Out of the Depth
I know that in the darkness of some night
Like a spent star my soul shall flicker out,
And not a star shall know its resting place.
But yet my wrath shall smolder like a crater
Whose flames have fallen; yea, my wrath shall live
While yet the thunder rumbles in the sky,
While ocean heavenward flings his troubled waves.
Oh God, would that my people's ageless woe
Were stored deep in the bosom of the world
To water the wide plains of sky and earth,
To nourish stars and plants, to live their life.
To pulse in all their throbbing, sense their growth,
With them to dwindle, rise and sprout afresh!
Outsoaring generations, let that woe
Witness to wrong eternal.  Voiceless, dumb,
Oh, let the cry ring through the deep of hell
And pierce the heavens, everlastingly
Withholding the redemption of the world.
And when, at the end of days, the sun of guile
And counterfeited righteousness shall rise
Upon your slain, when crimsoned with your blood
The banner of deceit shall flaunt the heavens
Unfurled above your slayers, when their flag
Emblazoned with the spurious seal of God
Shall pierce the sun's bright eye,
When the haughty dance and noisy revelry
Of lying feasts shall waken from their graves
Your hallowed bones; the firmament shall shudder
And grow dark at your agony, the sun
Shall redden to an orb of pure blood
To brand the mark of Cain upon the front
Of all the universe, to testify
The broken arm of God.  Yea, star to star
Shall flash its trembling message and cry "Behod
A world's deceit, a nation's agony!"
Until the Lord of Vengeance, stung to wrath
Shall rise and roar with His sword unsheathed
Go forth to strike.
____________________
Whence and Whither
Whence and whither
We had no inkling,
But the eyes that saw her,
She set them twinkling.
From an unknown country,
Some land far away
She came like a bird
Laughing and gay.
Lightsome and lively,
She went up and down
And set in commotion
The whole of our town.
The slips and byways,
The greenwood path,
Rang with her singing,
And echoed her laugh.
That day or that night
As she walked in the street
The youth of our town
Fell flat at her feet.
That day or that night
In every house,
A bickering started
'Twixt man and his spouse.
Good women whispered
O'er knitting pins,
Old men winked slyly,
And scratched their chins.
Father and mother
Slept not at night,
For their daughter's bridegroom
Was out of sight.
Then one day she vanished
Without a "goodbye!"
No one knows whither
And no one knows why.
Swift as a bird
Flies from a tree:
No one foresaw it,
Nor dreamt it could be.
The laughter was hushed,
The wood was neglected:
There was no one in it.
And no one expected.
As on dull grey days
That come out of season,
All went depressed
Without knowing the reason.
The boys came home punctual,
All meek and mild.
Bride and bridegroom
Were reconciled.
Young husbands sit
And yawn with their wives,
Who were never so loving
In all their lives.
No fun in the dark,
In the lane no delight –
Father and mother
Can sleep at night.
No quarrels, no shouts,
And nothing unlawful,
Peace in and peace out –
And the dullness is awful!