One theme among many in this ongoing series of posts about Jewish military casualties of the Second World War – whose obituaries appeared in The New York Times – is that these news items typically pertain to casualties incurred from late 1944 through the war's end, in 1945.
In that sense, this post – for Private David E. Glatter of Brooklyn – is no exception.

A member of the 1255th Engineer Combat Battalion of the 6th Cavalry Group, David was one of the battalion's eleven soldiers who lost their lives (51 others having been wounded) on February 12, 1945, during the liberation of Vianden, Luxembourg.
These soldiers are commemorated by a memorial located at the "View Point" of Vianden Castle, the text of a plaque there (shown below) reading:
VETERANS OF THE 1255TH COMBAT ENGINEERS
HONOR THE MEMORY OF
JACK BENDER              DAVID GLATTER
NATHAN CORLEY           EDWARD GRIFFIN
CYREL EVANOW            MARION HANSON
IRA GAMBILL                 CHARLES NANCE
VINCENT GAMBINO       HAROLD SMITH
WILLIAM TIFF
WHO GAVE THEIR LIVES ON FEBRUARY 12, 1945
AT VIANDEN
SI HUN D'LIEWE GELOOSS FIR D'FRAIHEET
                                                     FEBRUARY 12, 1995
News items about David appeared in The New York Times (below) on September 25, 1945, and, the Oswego Palladium Times on 9/29/45.
Hero Died of Wounds Suffered in Luxembourg
PFC David E. Glatter, son of Mr. and Mrs. Harry H. Glatter of 921 Washington Avenue, Brooklyn, died Feb. 14 of wounds suffered two days before in military operations in Luxembourg.  He was 19 years old.
For heroic achievement on Feb. 12 in Luxembourg he received posthumously the Bronze Star Medal.  During bitter fighting in the town of Vianden, the citation said, for a part of the time he stood alone on the river bank and delivered telling fire on a group of the enemy only 100 yards away.  On another occasion, when his platoon was pinned down by a German machine gun, he took his automatic rifle into the street and made a bold effort to silence the enemy gun.
Before entering the Army two years ago he was a student at Oswego State Teachers College and represented the school at inter-scholastic debates.
______________________________
A 2017 Google Street View of the Glatter family's wartime residence: 921 Washington Avenue, in Brooklyn.
David is buried at the Long Island National Cemetery, in Farmingdale, N.Y. (Section J, Grave 13890)  A photograph of his matzeva, by Ronzoni, appears below.  His name appears on page 322 of American Jews in World War II.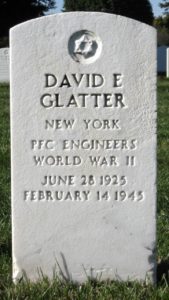 ______________________________
Some other Jewish military casualties on Monday, February 12, 1945, include…
Killed in Action
– .ת.נ.צ.ב.ה. –
Epstein, Frank H., Sgt., 32143761, Purple Heart
United States Army, 38th Infantry Division, 152nd Infantry Regiment
Mrs. Elizabeth Hewson (mother), 15 Morgan St., Rochester, N.Y.
Mrs. Irving Acker, Mrs. Arnold Van Scooter, and Mrs. Evelyn Epstein (sisters); Eugene T. Oliver (?)
Born 1916
Manila American Cemetery, Manila, Philippines – Plot D, Row 6, Grave 38
Rochester Democrat and Chronicle 3/24/45
American Jews in World War II – Not Listed
Goldberg, Sydney, Pvt., S/14679732 (in Northwest Europe)
England, Royal Army Service Corps
Mr. and Mrs. Mark and Esther Goldberg (parents), Cricklewood, Middlesex, England
35 Warwick Lodge, Shoot-up Hill, London, NW2, England
Born 1926
Reichswald Forest War Cemetery, Kleve, Germany – 45,E,15
The Jewish Chronicle 4/27/45
We Will Remember Them (Volume I) – 92
______________________________
Greenfield, Alvin, ARM 3C, 7084420, Aviation Radioman, Purple Heart
United States Navy, Patrol Squadron VP-130
Mr. Jesse Greenfield (father), 303 Berriman Road, Brooklyn, N.Y.
Aircraft: Lockheed PV-1 Ventura, Bureau Number 49464; Pilot: Lt. Richard V. Umphrey; 6 crewmen – no survivors
Tablets of the Missing at Manila American Cemetery, Manila, Philippines
Casualty List 4/1/45
http://www.dtic.mil/dpmo/
http://www.vpnavy.org/vp2_1945.html
American Jews in World War II – 335
The document below (from Fold3.com), from VP-130's War Diary for February of 1945, covers the loss of Lieutenant Umphrey's Ventura.  Like innumerable Allied aircraft lost during the Second World War, no wreckage or crewmen were ever recovered, and no definitive cause of the plane's loss could ever be determined.  However, the entry does suggest that, "The most likely possibilities are that either engine trouble resulted in a forced landing at sea, or the plane was shot down in the Zamboanga area, on the southwest tip of Mindanao, where there was a known concentration of AA."  (Anti-Aircraft)

Besides Aviation Radio Man Greenfield, the crew (their towns and cities of residence, as listed in the 1946 publication Combat Connected Naval Casualties, World War II, by States. 1946. U. S. Navy, Marine Corps, Coast Guard) consisted of the following:
Umphrey, Richard Vern Lt. – Iola Marie Umphrey (wife), Route 17, Box 1390, Milwaukie, Or.
McCaslin, James Walter Ens. – Mollie McCaslin (mother), Box 471, Chillicothe, Tx.
Banks, Auckland Marston AOM3C – Ethel Elizabeth Banks (mother), 3205 Plymouth Court, Tampa, Fl.
Dillon, O.M. ARM3C – Anna Elizabeth London (mother), 1400 Evans Ave., Fort Worth, Tx.
Murie, Louis Arnold AMM2C – John Murie (father), 73 South Adolph St., Akron, Oh.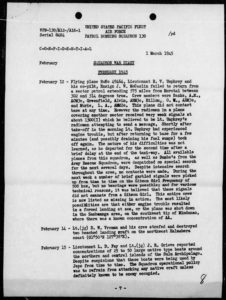 ______________________________
The three maps below, from Google Maps, show the presumed location of the aircraft's loss at successively larger scales. 
This map shows the island of Borneo, and the Philippine archipelago.  Though not labeled on this map, Zamboanga, at the southern tip of Mindanao, is about half-way between the Philippine Islands, and the northeast tip of Borneo, at the "boundary" between the Sulu and Celebes Seas.
"Zooming in" more closely.  Zamboanga – labeled on the map – is west-southwest of Davao.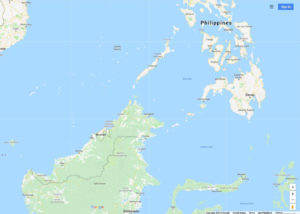 …and even closer, with Zamboanga at the lower center of the map.
______________________________
Since Lockheed's PV-1 Ventura is presumably vastly less well known than other World War Two aircraft, such as the B-17 Flying Fortress, P-51 Mustang, or Supermarine Spitfire (assuming that there remains room for any kind of historical memory in the Twitterfied, Facebooked, Snapchatized world of 2018…but I digress…or do I?…!), an image of two PV-1s is shown below.  Though these aircraft are serving in VB-135 in the Aleutian Theater of War (not VP-130, in the Western Pacific) the photo is nonetheless a excellent representative image of the general appearance of the PV-1 – per se.  Apparent are the plane's radial engines, twin fin and rudder (a la the North American B-25 Mitchell or Handley Page Hampden), dorsal turret mounting twin fifty-calibre Browning machine guns, two further Browning fifties in the upper nose, and, the two-place cockpit.  Not visible is the plane's bomb-bay, which was capable of carrying bombs or a torpedo.

The picture is from the Warbird Information Exchange, which features a series of superb images of American warplanes in the Aleutians.  The image also appears in Scrivner and Scarborough's PV-1 Ventura in Action, which notes that the pair of aircraft were photographed in July of 1944, while en route from Paramushiro to Attu.

The number "10" on the forward and rear fuselage is the aircraft's individual squadron identification number, while the "936" on the rear fuselage – probably in white – is the last three digits of the aircraft's Bureau Number, "48936".

______________________________
Hoffman, Harvey S., 1 Lt., 0-1108018
United States Army, 460th Engineer Depot Company
Mrs. Mary K. Hoffman (wife), 45 Tiemann Place, New York, N.Y.
Rhone American Cemetery, Draguignan, France – Plot B, Row 7, Grave 23
American Jews in World War II – 346
Kadison, Saul B., 1 Lt., 0-1304906, Silver Star, Purple Heart
United States Army, 80th Infantry Division, 317th Infantry Regiment
Mrs. Lena Kadison (mother), 1223 Lincoln Place, Brooklyn, N.Y. (Also remembered by "Fae"…)
Luxembourg American Cemetery, Luxembourg City, Luxembourg – Plot E, Row 5, Grave 19
Casualty List 6/10/45
The New York Times Obituary Memorial Section 2/12/46
American Jews in World War II – 353
Kalman, Abraham, Pvt.
1st Czechoslovak Army Corps, Disciplinary Commando
Born Czechoslovakia, Mala Tarna, okres Sevljus; 11/1/19
http://www.army.cz/acr/vuapraha/db/index.php
Laine, Colin, Pvt., 13120129
England, The Buffs (Royal East Kent Regiment), 2nd Battalion
Mr. and Mrs. Mordecai and Simma Eisland (parents)
Mr. R. Eisland (uncle), New York, N.Y., USA
Born 1923
Taukkyan War Cemetery, Taukkyan, Rangoon, Myanmar – 27,C,11
We Will Remember Them (Volume I) – 116

Leventon, Alexandre (AC-21P-75446) (at Mulhouse, Haut-Rhin, France)
France, Armée de Terre, 21eme Régiment d'Infanterie Coloniale
Born Odessa, U.S.S.R., 4/29/21
Place of burial unknown
Libman, Mikhail Aleksandrovich (Либман, Михаил Александрович)
Hero of the Soviet Union
Guards Major [Гвардии Майор], Commander (Artillery) [Командир (Артиллерия)]
U.S.S.R., Red Army, 1st Ukrainian Front, 5th Guards Army, 7th Artillery Corps, 3rd Artillery Division, 637th Light Artillery Regiment, 15th Light Artillery Brigade
(Wounded 9/26/43)
Born 1921, Rostov-on-Don, Rostov Oblast, Soviet Union
Kule Cemetery, Częstochowa, Poland – Grave 21
Libman, Mikhail Aleksandrovich (Wikipedia, at Либман, Михаил Александрович)
Under Fire – 358
Memorial Book of Jewish Soldiers Who Died in Battles Against Nazism – 1941-1945 – Volume V – 56
Ozer, Albert Milton, Pvt., 32189224, Purple Heart
United States Army, 34th Infantry Division, 34th Reconnaissance Troop
Mr. and Mrs. Jehile and Anna Ozer (parents), Benjamin and Miriam (brother and sister), 258 Buffalo Ave., Brooklyn, N.Y.
Parents postwar address: 4250 West Flager St., Miami, Fl.
Born 1917
Florence American Cemetery, Florence, Italy – Plot F, Row 3, Grave 28
Casualty List 4/3/45
American Jews in World War II – Not Listed
Raffel, Arthur G., Sgt., 42043388, Purple Heart
United States Army, 94th Infantry Division, 376th Infantry Regiment
Mr. and Mrs. Samuel and Henrietta Raffel (parents), Joseph (brother), 3418 Gates Place, New York, N.Y.
Mount Pleasant Cemetery, Center Moriches, N.Y.; Buried 4/3/49
Casualty List 3/20/45
New York Times Obituary Memorial Section 4/1/49
American Jews in World War II – 409
Robbins, Fred B., T/Sgt., 15104767, Flight Engineer, Air Medal, Purple Heart
United States Army Air Force, 20th Air Force, 6th Bomb Group, 39th Bomb Squadron
Mr. Phil Robbins (uncle), 1901 Alvason St., Cleveland, Oh.
Mrs. Anne C. Robbins (sister-in-law); Florence, PFC Arnold, and David (sister and brothers)
Born 1922
MACR 12049; Aircraft: B-29 42-24842; Pilot: 1 Lt. Bernard A. Casaurang; 11 crewmen – no survivors
Tablets of the Missing at Honolulu Memorial, Honolulu, Hawaii
Cleveland Press & Plain Dealer – 2/28/45, 8/8/45
American Jews in World War II – 497
The Casaurang crew's Superfortress was not actually lost in combat.  During a sea-search mission, the right wing caught fire after the #4 engine developed mechanical problems.  The bomber crashed into the sea, about 55 miles northwest of the Marianas Islands of Saipan and Tinian.  Other aircraft made extensive searches of the area, but there were no survivors.  
The plane's crew list is shown below:
______________________________
Rosenheim, Charles Leslie, Major, 172292, Military Cross (in Western Europe)
England, Welch Regiment, 4th Battalion
Mrs. Annelies Rosenheim (wife), Golders Green, Middlesex, England
Wife also at 73 Meadway, London, NW11, England
Mr. and Mrs. Ludwig and Martha Rosenheim (parents), Prestwood, Buckinghamshire, England
Born 1913
Reichswald Forest War Cemetery, Kleve, Germany – 51,F,5
The Jewish Chronicle 2/23/45
We Will Remember Them (Volume I) – 20, 150
We Will Remember Them (Volume II) – 98

Simpson, Roger Henry, Major, 160270
England, Royal Artillery, 8th Field Regiment
Mrs. Patricia Simpson (wife), St. Marylebone, London, England
Mr. and Mrs. Emden and Lily (Burton) Simpson (parents)
Born 1912
Taukkyan War Cemetery, Taukkyan, Rangoon, Myanmar – 27,E,16
We Will Remember Them (Volume I) – 162

Tankelis, Abel Berovich [Танкелис, Абел Берович] Junior Sergeant [Младший Сержант]
U.S.S.R., Red Army, 16th Lithuanian Rifle Division, Army Trophy [captured enemy equipment] Team
Died of wounds at 80th Autonomous Medical Battalion, Priekule, Latvia
Mr. Ber Tankel (father); Miss Mina Berovich (sister)
Born 1920, in Kursk
Possibly brother of Junior Sergeant [Младший Сержант] David Berovich Tankelis [Давид Берович Танкелис], of 249th Rifle Regiment, 16th Lithuanian Rifle Division
Road to Victory – 304 (gives name and rank as "Tankel, Abel", "Sgt.")
Servicemen in Polish People's Army, during "Operation Pomeranian Wall"
Balasz, Rafael, Pvt. (at 2nd Infantry Division Military Hospital)
Polish People's Army, 5th Infantry Regiment
Mr. Jozef Balasz (father)
Born Wilczunk (Siedlce), Poland, 1909
Jewish Military Casualties in the Polish Army in World War II (Volume I) – 5
Bluzer, Aleksander, Pvt. (at Field Hospital 5171, Walcz, Poland)
Polish People's Army
Mr. Jozef Bluzer (father)
Born 1922
Jewish Military Casualties in the Polish Army in World War II (Volume I) – 99

Fuks, Dawid, Cpl. (at Miroslawiec, Zachodniopomorski, Poland)
Polish People's Army, 5th Infantry Regiment
Mr. Markus Fuks (father)
Komarno, Poland 1929 (?)
Jewish Military Casualties in the Polish Army in World War II (Volume I) – 22

Gerszanowicz, Leon, Sergeant Major (at Rudki, Poland)
Polish People's Army, 6th Infantry Regiment
Mr. Lazarz Gerszanowicz (father)
Lithuania, Ostrowiec (d. Vilna); 1916
Walcz Military Cemetery, Poland
Jewish Military Casualties in the Polish Army in World War II (Volume I) – 98

Hister, Gecel, Cpl. (at Zabinek, Zachodniopomorski, Poland)
Polish People's Army, 5th Infantry Regiment
Mr. Jakub Hister (father)
Radymno (d. Jaroslaw) [Podkarpackie?], Poland, 1919
Jewish Military Casualties in the Polish Army in World War II (Volume I) – 30

Kujawski, Michal, WO
Polish People's Army, 1st Infantry Division
Mr. Szlomo Kujawski (father)
Born 1920
Jewish Military Casualties in the Polish Army in World War II (Volume I) – 42

Ligenberg, Samek, WO (at Zabieniec, Poland)
Polish People's Army, 5th Infantry Regiment
Mr. Szmuel Ligenberg (father)
Poland, Mazowieckie, Warsaw; 1923
Jewish Military Casualties in the Polish Army in World War II (Volume I) – 46

Liport, Ilia, WO (at Zlotow, Poland)
Polish People's Army, 23rd Heavy Artillery Regiment
Mr. Lazar Liport (father)
Odessa Oblast, Odessa; 1922
Jewish Military Casualties in the Polish Army in World War II (Volume I) – 46

Margules, Zachariasz, Pvt. (at Borujsk, Poland)
Polish People's Army, 5th Infantry Regiment
Mr. Hersz Margules (father)
Chelm (d. Lublin) [Lubelskie?], Poland, 1912
Jewish Military Casualties in the Polish Army in World War II (Volume I) – 101

Orlinski, Aron, Cpl. (at Miroslawiec, Zachodniopomorski, Poland)
Polish People's Army, 5th Infantry Regiment
Mr. Szlomo Orlinski (father)
Poland, Podlaskie, Bialystok; 10/25/13
Jewish Military Casualties in the Polish Army in World War II (Volume I) – 52

Pinczewski, Jozef, First Sergeant (at Miroslawiec, Zachodniopomorski, Poland)
Polish People's Army, 5th Infantry Regiment
Mr. Izrael Pinczewski (father)
Poland, Mazowieckie, Warsaw; 12/13/13
Jewish Military Casualties in the Polish Army in World War II (Volume I) – 54 (Also listed as "Piczewski, Josef", on page 54)

Schiffer Zeglarski, Jakub, 2 Lt. (at Rudki, Poland)
Polish People's Army, 16th Infantry Regiment
Mr. Jakub Schiffer Zeglarksi (father)
Rudnik near San (d. Nisko), Poland, 7/23/97
Jewish Military Casualties in the Polish Army in World War II (Volume I) – 61

Spiro, Mojzesz, First Sergeant (at Wloclawek, Kujawsko-Pomorskie, Poland)
Polish People's Army, 3rd Infantry Division, Disciplinary Company
Mr. Jakub Spiro (father)
Gorlice, Malopolskie, Poland, 1909
Jewish Military Casualties in the Polish Army in World War II (Volume I) – 63

Szakies, Jan, Pvt. (at Borujsk, Poland)
Polish People's Army, 5th Infantry Regiment
Mr. Jan Sazkies (father)
Kabosze (d. Braslaw), Poland, 1913
Jewish Military Casualties in the Polish Army in World War II (Volume I) – 98

Szubert, Kazimierz, WO (at Nowe Laski (Walcz), Zachodniopomorski, Poland)
Polish People's Army, 6th Infantry Regiment
Mr. Ignacy Szubert (father)
Zaluze (d. Zbaraz), Poland, 1921
Jewish Military Casualties in the Polish Army in World War II (Volume I) – 68

Wizner, Leopold, Pvt. (at Miroslawiec, Zachodniopomorski, Poland)
Polish People's Army, 5th Infantry Regiment
Mr. Jozef Wizner (father)
Oswiecim, Malopolskie, Poland, 1924
Jewish Military Casualties in the Polish Army in World War II (Volume I) – 75
References
Dublin, Louis I., and Kohs, Samuel C., American Jews in World War II – The Story of 550,000 Fighters for Freedom, The Dial Press, New York, N.Y., 1947
Leivers, Dorothy (Editing and Revisions), Road to Victory – Jewish Soldiers of the 16th Lithuanian Division, 1941-1945, Avotaynu, Bergenfield, N.J., 2009
Meirtchak, Benjamin, Jewish Military Casualties in the Polish Armies in World War II: I – Jewish Soldiers and Officers of the Polish People's Army Killed and Missing in Action 1943-1945, World Federation of Jewish Fighters Partisans and Camp Inmates: Association of Jewish War Veterans of the Polish Armies in Israel, Tel Aviv, Israel, 1994
Morris, Henry, Edited by Gerald Smith, We Will Remember Them – A Record of the Jews Who Died in the Armed Forces of the Crown 1939 – 1945, Brassey's, United Kingdom, London, 1989

Morris, Henry, Edited by Hilary Halter, We Will Remember Them – A Record of the Jews Who Died in the Armed Forces of the Crown 1939 – 1945 – An Addendum, AJEX, United Kingdom, London, 1994
Scrivner, Charles L., and Scarborough, Capt. W.E., USN (Ret.), Lockheed PV-1 Ventura in Action, Squadron / Signal Publications, Carrollton, Tx., 1981
Shapiro, Gershon (Compiler), Under Fire – The Stories of Jewish Heroes of the Soviet Union, Yad Vashem, Jerusalem, 1988
Memorial Book of Jewish Soldiers Who Died in Battles Against Nazism – 1941-1945 – Volume V [Surnames beginning with А (A), Б (B), В (V), Г (G), Д (D), Е (E), Ж (Zh), З (Z), И (I), К (K)], Maryanovskiy, M.F., Pivovarova, N.A., Sobol, I.S. (editors), Union of Jewish War Invalids and Veterans, Moscow, Russia, 1998
1255th Engineer Combat Battalion
1255th Engineer Combat Battalion – Traces of War – Memorial 1255th Engineer Combat Battalion (at Tracesofwar.com)
American War Memorials Overseas – 1255th Combat Engineer Battalion Monument (at uswarmemorials.org)